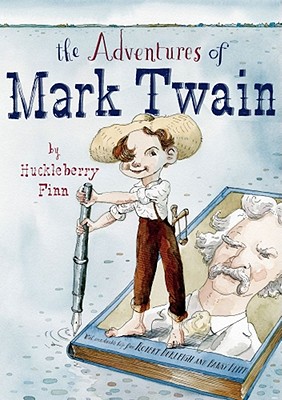 The Adventures of Mark Twain by Huckleberry Finn
Hardcover

* Individual store prices may vary.
Description
Everyone knows the story of the raft on the Mississippi and that ol' whitewashed fence, but now it's time for youngins everywhere to get right acquainted with the man behind the pen. Mr. Mark Twain! An interesting character, he was...even if he did sometimes get all gussied up in linen suits and even if he did make it rich and live in a house with so many tiers and gazebos that it looked like a weddin' cake. All that's a little too proper and hog tied for our narrator, Huckleberry Finn, but no one is more right for the job of telling this picture book biography than Huck himself. (We're so glad he would oblige.) And, he'll tell you one thing—that Mr. Twain was a piece a work! Famous for his sense of humor and saying exactly what's on his mind, a real satirist he was—perhaps America's greatest. Ever. True to Huck's voice, this picture book biography is a river boat ride into the life of a real American treasure.
Praise For The Adventures of Mark Twain by Huckleberry Finn…
The Adventures of Mark Twain by Huckleberry Finn.

Burleigh, Robert (Author) , Blitt, Barry (Illustrator)
Mar 2011. 48 p. Atheneum, hardcover, $17.99. (9780689830419).
The neat switcheroo in this picture-book biography has the story of Mark Twain's life told by one of his
most endearing characters, Huck Finn. As one might expect, Huck isn't the most articulate of narrators ("I ain't no highfalutin' talker"), and he would probably rather be doing just about anything else: "This ain't
intendin' to be some windy biografy. I don't lean much to writin', and I don't fetch to books much neither,
'specially long ones." Although Huck's narration is almost overwhelmingly folksy, his undeniably cheery
tone is infectious. He succinctly traces Clemens' life from a boyhood romping around the shores of the
Mississippi to his odd-jobbing endeavors as a steamboat captain, newspaper reporter, soldier, and
prospector until he finally finds his true calling, as a "for-real writer," and becomes one of the most
famous men in the world. Blitt, a frequent New Yorker cartoonist, provides jaunty, cartoony pen-andwatercolor artwork, with exaggerated, tall-tale figures and period charm aplenty. Just the biography to reinforce, or even introduce, Twain's stature as a nearly mythological figure in American letters.
— Ian Chipman
BOOKLIST, February 15, 2011

The Adventures of Mark Twain by Huckleberry Finn

Written by Robert Burleigh and illustrated by Barry Blitt

(Atheneum; ISBN: 9780689830419; March 2011; Spring catalog p. 27)

This playful biography of Mark Twain--narrated by his most famous of characters, Huckleberry Finn--begs to be read aloud with a backwoods twang. "Him bein' an author, you might 'spect he went to one of them fancy-pants schools people brag about. Heck, Sam hardly went to school at all! He growed up bein' poor, same as me, in a dusty village," declares Huck. Blitt (What's the Weather Inside?) contributes whimsical caricatures in pen, ink, and watercolor; a cherubic and ruddy-faced Huck, with a straw hat and a mop of hair over one eye, appears in each spread, appearing to play the dichotomous role of peeping tom and guardian angel (in one scene, he sprawls on a light fixture watching Twain write Huck's adventures as small cartoon figures of the characters paddle a raft right across Twain's pages). Enlarged and varied typefaces, used for emphasis and headings, may initially distract, but, as with the dialect, add to the delight. Burleigh's (Good-bye, Sheepie) book highlights the life of a great American author and is sure to whet readers' appetites for more about its straight-talking narrator. Ages 7–10.

--Publishers Weekly, February 14, 2011, *STAR

*BURLEIGH, Robert. The Adventures of Mark Twain by Huckleberry Finn. illus. by Barry Blitt. unpaged. chron. CIP. S & S/Atheneum. 2010. RTE $17.99. ISBN 978-0-689-83041-9. LC 2010006512.

Gr 4-8–What would Huck Finn have to say about his creator? Burleigh and Blitt take an unusual perspective in this picture-book biography. In Huck's colloquial voice, a portrait of Twain emerges that is engaging, accessible, and highly original. From his boyhood on the Mississippi, through his riverboat days, his writing and public speaking careers, and his adult family life, the main points of the writer's life are covered. Blitt's humorous illustrations are a perfect match for the tall-tale-inspired text. Rendered in pen, ink, and watercolor, the caricature style suits both Huck's voice and Twain's life. The muted blues and browns of the palette have an old-fashioned quality that amplifies the 19th-century setting. The cover illustration, of Huck on a book "raft" paddling with a fountain pen, cleverly demonstrates the book's premise. Although children will be entertained by the account, the most enthusiastic audience may be students familiar with Twain's work. One does not need to know Huck's story to understand Twain's, but doing so will increase appreciation for the ingenious nature of this collaboration.–Lucinda Snyder Whitehurst, St. Christopher's School, Richmond, VA

- School Library Journal March 1, 2011 STAR

The Adventures of Mark Twain by Huckleberry Finn

Written by Robert Burleigh and illustrated by Barry Blitt

(Atheneum; ISBN: 9780689830419; March 2011; Spring catalog p. 27)

Hot on the heels of Susy Clemens, in Barbara Kerley's The Extraordinary Mark Twain (According to Susy), BCCB 3/10, comes a rival Mark Twain child biographer, of sorts—Huckleberry Finn himself. With Burleigh's, ahem, editorial assistance, Huck recreates his creator, one might say, in his own homespun voice: "Sam tried soldierin'. But it didn't take. There wasn't much sand in his craw for killin' people. And . . . he was very unfavorable to bein' killed hisself." Huck not only effectively and wittily conveys the basics of his literary father's life, but he also displays an excellent grasp of the critiques addressed to Twain's work by both contemporaries and later generations: "Before I came along, most folks wouldn't pay no attention to a story 'bout a no-account boy. . . . And they wouldn't like that my words ain't always presented in the King's English." Huck is assisted in his authorial debut by Barry Blitt, whose spidery line-and-watercolor paintings echo the fluid ink work of Robert Andrew Parker and the spot-on caricature of John Hendrix. Our "author" admits he "left a lot out," but he slyly puts responsibility for any of his work's shortcomings on Twain himself: "I coulda throwed more style into it, but I can't do that very handy, not being brought up to it." Fortunately, his editor supplies additional data in an appended note, and as to style—well, I reckon most kids'll think he done just fine.

--Bulletin of the Center for Children's Books, March 2011, *STAR
Atheneum Books for Young Readers, 9780689830419, 48pp.
Publication Date: March 8, 2011
About the Author
Robert Burleigh is the award-winning author of many books for children, including The Adventures of Mark Twain by Huckleberry Finn, illustrated by Barry Blitt; Night Flight, illustrated by Wendell Minor; Black Whiteness, illustrated by Walter Lyon Krudop; and Sylvia's Bookshop, illustrated by Katy Wu. His many other books include Hoops; Stealing Home; and Clang! Clang! Beep! Beep! He lives in Michigan.

Barry Blitt's illustrations have appeared on more than eighty New Yorker covers and have also graced the pages of The New York Times and Entertainment Weekly. He is the illustrator of Once Upon a Time, the End (Asleep in 60 Seconds) by Geoffrey Koske and The Adventures of Mark Twain by Huckleberry Finn by Robert Burleigh, as well as other picture books. He lives in Roxbury, Connecticut.
or
Not Currently Available for Direct Purchase