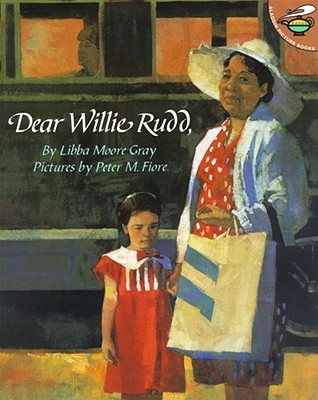 Dear Willie Rudd (Paperback)
Aladdin, 9780689831058, 40pp.
Publication Date: February 1, 2000
* Individual store prices may vary.
Description
Fifty years have passed since Miss Elizabeth was a girl, but she still remembers Willie Rudd, the black housekeeper who helped raise her. She remembers the feel of sitting in Willie Rudd's lap while the housekeeper sang to her. And she remembers how Willie Rudd scrubbed the floor on her hands and knees. What would Miss Elizabeth say to Willie Rudd if she were alive today? She decides to write her a letter telling her how things would be different. Now Willie Rudd would come in the front door -- not the back. She would ride in the fornt of the bus with Miss Elizabeth, and they could sit together at the movies. The two of them would have a wonderful time. And in her heartfelt letter, Miss Elizabeth has the chance to tell Willie Rudd something she never told her while she was alive -- that she loved her.
About the Author
Libba Moore Gray has been an actress, a dancer, and for twenty years a teacher of high school English and drama. Her poetry and short stories have appeared in a number of literary magazines, but Miss Tizzy is her first writing for children. Ms. Gray's four children include a businessman, a ballerina, a teacher, and a professional clown. With her husband, Robert, she makes her home in Knoxville, Tennessee.

Peter M. Fiore has illustrated many books for children, including Touching the Sky by Louise Borden and Henry David's House, edited by Steven Schnur. Mr. Fiore has been interested in art since he was a young boy, and in addition to his book work, Mr. Fiore is well known as a fine artist. Mr. Fiore has received many awards and citations for his editorial illustration, including a Silver Medal from the Society of Illustrators.
Mr. Fiore lives along the Delaware River in Pennsylvania with his family.