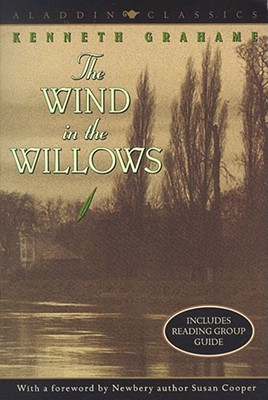 The Wind in the Willows (Aladdin Classics)
Paperback

* Individual store prices may vary.
Other Editions of This Title:
Digital Audiobook (3/7/2011)
Paperback (10/21/2018)
Paperback (4/4/2017)
Paperback (5/8/2018)
Paperback (10/21/2013)
Paperback (9/25/2019)
Paperback (5/28/2017)
Paperback (12/8/2018)
Paperback (9/1/2004)
Paperback (11/20/2012)
Paperback (1/9/2014)
Paperback (3/30/2014)
Paperback (2/28/2020)
Paperback (5/16/2015)
Paperback (10/28/2018)
Paperback (11/14/2018)
Description
Since its beginnings as a series of stories told to Kenneth Grahame's young son, The Wind in the Willows has gone on to become one of the best-loved children's books of all time. The timeless story of Toad, Rat, Mole, and Badger has delighted readers of all ages for more than eighty years.

Friendly Rat, mild-mannered Mole, wise Badger, and kind—but conceited—Toad all live on the banks of the Thames. While Mole and Rat are content to go out in a row boat or travel the roads in a caravan, Toad prefers the excitement of motor cars. He's already wrecked seven! While his friends try to keep him out of trouble, his passion for cars eventually results in his being caught and kept prisoner in the remotest dungeon of the best-guarded castle in all the land. Somehow, he has to escape and get home but what will he find when he gets there?

The Wind in the Willows is a book for those "who keep the spirit of youth alive in them; of life, sunshine, running water, woodlands, dusty roads, winter firesides." So, wrote Kenneth Grahame of his timeless tale of Rat, Mole, Badger, and Toad.
Aladdin, 9780689831409, 304pp.
Publication Date: August 1, 1999
About the Author
Kenneth Grahame was born in Scotland in 1859. His best-known story, The Wind in the Willows, began as a series of bedtime stories for his son. It was published in 1908. Grahame died in 1932 but his book lived on. The Wind in the Willows has been adapted for the stage, film, and television, and it has never been out of print.

Susan Cooper is one of our foremost children's authors; her classic five-book fantasy sequence The Dark Is Rising has sold millions of copies worldwide. Her many books have won the Newbery Medal, a Newbery Honor, and the Boston Globe-Horn Book Award, and been shortlisted five times for the Carnegie Medal. She combines fantasy with history in Victory (a Washington Post Top Ten for Children novel), King of Shadows and Ghost Hawk, and her magical The Boggart and the Monster, second in a trilogy, won the Scottish Arts Council's Children's Book Award. Susan Cooper lives on a saltmarsh island in Massachusetts, and you can visit her online at TheLostLand.com.