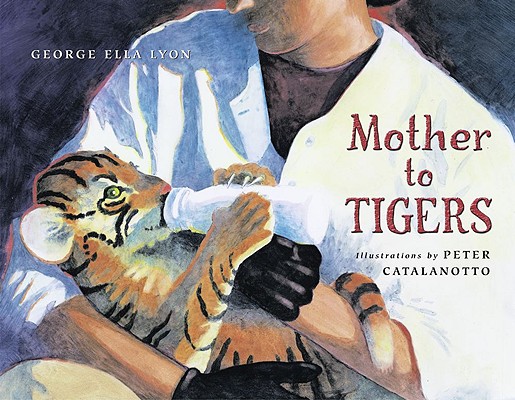 Mother to Tigers (Hardcover)
Atheneum/Richard Jackson Books, 9780689842214, 32pp.
Publication Date: March 1, 2003
* Individual store prices may vary.
Description
You are a Bengal tiger cub,
one of three -- Dacca, Rajpur, Raniganj -- abandoned by your mother.
You are so cold and thin that someone with kind hands puts you on a heating pad and sits by you for hours, moistening your mouth with milk.
When you give a weak cry and look up, there is a human face almost crying too.
Your new mother is Helen Delaney Martini, who has already raised a lion cub in her New York apartment. Tigers in the bathtub will be no problem for her and her husband, Fred.
This remarkable book -- strikingly striped as tigers are, sympathetically spoken as any child could wish -- tells the story of Helen Martini, founder of the Bronx Zoo's animal nursery in 1944 and its first woman zookeeper.
About the Author
George Ella Lyon is the author of Trucks Roll!, Planes Fly!, and Boats Float!, cowritten with her son Benn. Among George Ella's other books are the ALA Notable All the Water in the World and What Forest Knows. A novelist and poet, she lives with her family in Lexington, Kentucky. Visit her online at GeorgeEllaLyon.com.

Peter Catalanotto has written seventeen books for children, including Monkey & Robot, More of Monkey & Robot, The Newbies, Question Boy Meets Little Miss Know-It-All, Ivan the Terrier, Matthew A.B.C., and Emily's Art, of which School Library Journal said in a starred review, "whether viewed from afar or up close, this creative and heartfelt book is a masterpiece." In 2008, First Lady Laura Bush commissioned Peter to illustrate the White House holiday brochure. He currently teaches the first children's book writing course offered by both Columbia University and Pratt Institute. Peter has illustrated more than thirty books for other writers including George Ella Lyon, Cynthia Rylant, Mary Pope Osborne, Joanne Ryder, Robert Burleigh, and Megan McDonald.