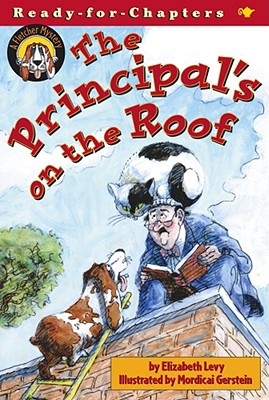 The Principal's on the Roof (Paperback)
Aladdin, 9780689846274, 80pp.
Publication Date: October 1, 2002
Other Editions of This Title:
Compact Disc (1/1/2006)
Compact Disc (1/1/2006)
Analog Audio Cassette (1/1/2006)
Analog Audio Cassette (1/1/2006)
* Individual store prices may vary.
Description
WARNING: Reading May Be Hazardous To Your Health
The principal of Jill and Gwen's school promised to spend the morning on the roof if the kids read one thousand books during their reading marathon -- and they did! Now he's on the roof, and he's going to read an original science fiction story Gwen wrote.
But he could fall off the roof is he doesn't stop sneezing. Is it a coincidence that Gwen's story is about aliens who live on roofs and make humans sneeze? Fletcher knows that Gwen would never pull a dangerous practical joke just to make her story come try. But can he prove it before Gwen's in big trouble?
About the Author
Elizabeth Levy says:

Fletcher Rules!

There are three things I love -- dogs, mysteries, and salami. I also am fascinated and moved by the ways we love our pets and they love us. I first wrote about Fletcher, a salami-eating basset hound, in the Something Queer Mysteries more than thirty years ago. But those books were Gwen and Jill's mysteries. I always wondered what Fletcher thought about things. I love hearing from kids and visiting schools. Children from all over the world sent me wonderful drawings of Fletcher. I decided it was time for Fletcher to tell his own stories and star in his own series. But writing is mysterious. I never knew that a friendly flea named Jasper would join Fletcher. As I began these books, Jasper just started popping up and chatting. Now, Gwen, Jill, Fletcher, Mordicai, and I have a new friend. He's rather tiny, but he's a lot of fun, and I'm looking forward to more mysteries with Fletcher and Jasper and their humans, Gwen and Jill.
or
Not Currently Available for Direct Purchase