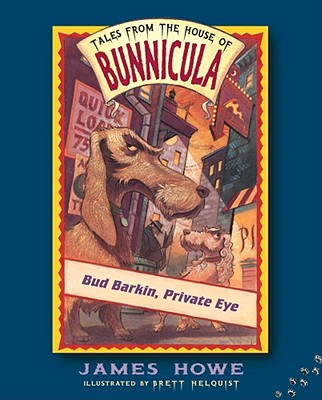 Bud Barkin, Private Eye (Tales From the House of Bunnicula #5) (Hardcover)
Atheneum Books for Young Readers, 9780689856327, 96pp.
Publication Date: May 1, 2003
Other Editions of This Title:
Paperback (5/1/2004)
Prebound (5/1/2004)
* Individual store prices may vary.
Description
Dear Reader,
The guy who usually writes these letters asked me to do it instead. Maybe he was having a bad writing day. Maybe he wanted me to play the sap for him. Or maybe he ran into Trouble with a capital T.
Well, Trouble's my business. I'm a dog. I'm a detective. The name's Bud Barkin. And this book is about a case I had involving a dame named Delilah Gorbish, whom I would call Trouble with a capital T except I've used that metaphor already, and a clown named Crusty Carmady whose calling card is a teakettle that he heaves through windows. Nice pair of birds. The mystery deepens with another character called the Big Fish, who isn't really a fish and who's addicted to the Home Shopping Network.
Hey, I don't write 'em -- I just solve 'em. If you're interested you might want to come along for the ride, which is wilder than a bunch of English teachers at a grammar fair. Just remember: I do all the similes.
Yours truly, Bud Barkin, P.E.
About the Author
James Howe is the author of more than ninety books for young readers. Bunnicula, coauthored by his late wife Deborah and published in 1979, is considered a modern classic of children's literature. The author has written six highly popular sequels, along with the spinoff series Tales from the House of Bunnicula and Bunnicula and Friends. Among his other books are picture books such as Horace and Morris but Mostly Dolores and beginning reader series that include the Pinky and Rex and Houndsley and Catina books. He has also written for older readers. The Misfits, published in 2001, inspired the antibullying initiative No Name-Calling Week, as well as three sequels, Totally Joe, Addie on the Inside, and Also Known as Elvis. A common theme in James Howe's books from preschool through teens is the acceptance of difference and being true to oneself. Visit him online at JamesHowe.com.
or
Not Currently Available for Direct Purchase