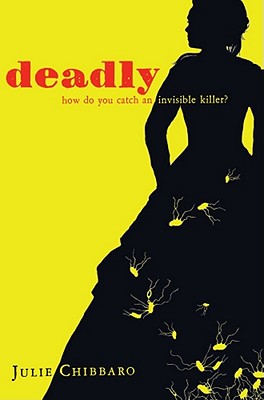 Deadly (Hardcover)
Atheneum Books for Young Readers, 9780689857386, 304pp.
Publication Date: February 22, 2011
Other Editions of This Title:
Paperback (2/21/2012)
* Individual store prices may vary.
Description
A mysterious outbreak of typhoid fever is sweeping New York.
Could the city's future rest with its most unlikely scientist?

If Prudence Galewski is ever going to get out of Mrs. Browning's esteemed School for Girls, she must demonstrate her refinement and charm by securing a job appropriate for a young lady. But Prudence isn't like the other girls. She is fascinated by how the human body works and why it fails.

With a stroke of luck, she lands a position in a laboratory, where she is swept into an investigation of the fever bound to change medical history. Prudence quickly learns that an inquiry of this proportion is not confined to the lab. From ritzy mansions to shady bars and rundown tenements, she explores every potential cause of the disease. But there's no answer in sight—until the volatile Mary Mallon emerges. Dubbed "Typhoid Mary" by the press, Mary is an Irish immigrant who has worked as a cook in every home the fever has ravaged. Strangely, though, she hasn't been sick a day in her life. Is the accusation against her an act of discrimination? Or is she the first clue in a new scientific discovery?

Prudence is determined to find out. In a time when science is for men, she'll have to prove to the city, and to herself, that she can help solve one of the greatest medical mysteries of the twentieth century.
About the Author
Julie Chibbaro grew up in New York City wondering how so many people could live together without infecting each other with mortal diseases. After attending Performing Arts High School for theater, she ran away to Mexico, where she survived an earthquake and a motorcycle crash and learned a little something about death. Returning to New York, she decided to create her own fictional characters instead of playing one. Julie Chibbaro is the author of Redemption, which won the 2005 American Book Award. Julie teaches fiction and creative writing in New York. You can also visit her at juliechibbaro.com.
Praise For Deadly…
From SCHOOL LIBRARY JOURNAL

"There's plenty to think about and discuss in this diary-format novel based on the notorious case of Mary Mallon, also known as "Typhoid Mary." It's 1906 and 16-year-old Prudence is in her final year at a school for girls... but, unlike most of her classmates, Prudence isn't interested in being an ornamental "Gibson Girl." Instead, she craves a job where she can actually make a difference. She's always been scientifically curious, particularly regarding the nature of infection and disease.... When she lands a position as assistant to an epidemiologist working for the Department of Health and Sanitation, she quits school completely to help investigate the microbial mystery of Mary Mallon, an immigrant cook and suspected "healthy carrier" of typhus, who adamantly denies she's been unwittingly infecting a series of employers' families and instead insists she's the victim of anti-Irish discrimination. A deeply personal coming-of-age story set in an era of tumultuous social change, this is top-notch historical fiction that highlights the struggle between rational science and popular opinion as shaped by a sensational, reactionary press."

"Paced like a medical thriller, "Deadly" is the rare Y.A. novel in which a girl's intellectual interests trump adolescent romance. A 16-year-old Jewish tenement dweller in 1906 New York pines away days at a finishing school on scholarship and nights helping midwife young mothers. When she quits school to assist the Department of Health and Sanitation in its pursuit of "Typhoid Mary," she is awakened to nascent opportunities for women in science."

--New York Times Book Review, March 13, 2011
Book Videos