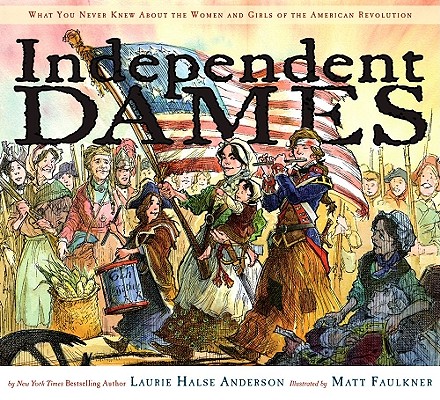 Independent Dames (Hardcover)
What You Never Knew about the Women and Girls of the American Revolution
Simon & Schuster Books for Young Readers, 9780689858086, 37pp.
Publication Date: June 3, 2008
* Individual store prices may vary.
Description
Listen up You've all heard about the great men who led and fought during the American Revolution; but did you know that the guys only make up part of the story? What about the women? The girls? The dames? Didn't they play a part? Of course they did, and with page after page of superbly researched information and thoughtfully detailed illustrations, acclaimed novelist and picture-book author Laurie Halse Anderson and charismatic illustrator Matt Faulkner prove the case in this entertaining, informative, and long overdue homage to those independent dames.
Praise For Independent Dames: What You Never Knew about the Women and Girls of the American Revolution…
"A stirring portrait of the women who made America possible.
Beginning with the scene of a school play about the Founding Fathers, Anderson declares that if we look only at them we are missing half of the story. Then she begins with small vignettes of some of our heroines. Sybil Ludington rode longer than Paul Revere and didn't get caught! The Daughters of Liberty make an appearance, along with nine-year-old Susan Boudinot who protested at a tea party of the Royal Governor. Writers (Phyllis Wheatley), soldiers (Deborah Sampson), spies, scouts, nurses, and the wives of the patriots all get their due via a small fact and portrait....
[Anderson] keeps the text lively and encourages young readers to find out more. At the bottom of each picture Anderson includes a timeline of events and defines some of the terms, making the book even more information rich. At the end of the forty-page book, she adds material on other women and a great bibliography. This short text lends itself to all kinds of activities or acts simply as a supplement for more traditional texts. Anderson's research is thorough and her understanding of young readers, as always, is profound. When I conducted an informal poll of school librarians and teachers, Independent Dames emerged as their favorite book for Women's History Month. Writing with passion and humor, Laurie Halse Anderson is on a mission to set the record straight. And she does!"

-Anita Silvey