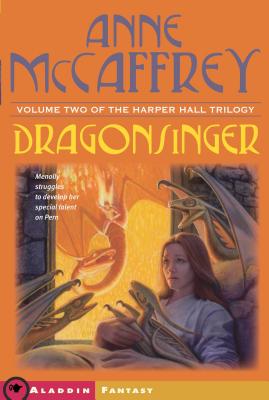 Dragonsinger (Harper Hall of Pern #2)
Paperback

* Individual store prices may vary.
Other Editions of This Title:
Digital Audiobook (10/24/2005)
Digital Audiobook (10/24/2005)
Digital Audiobook (5/15/2017)
Digital Audiobook (9/24/2005)
Digital Audiobook (7/11/2007)
Digital Audiobook (7/11/2007)
Digital Audiobook (7/11/2007)
Paperback (11/3/2019)
Paperback (4/1/2003)
Mass Market (3/31/2015)
Hardcover (5/17/2016)
Mass Market (5/12/1986)
Mass Market (10/13/1986)
Mass Market (4/28/2015)
Hardcover (5/17/2016)
Compact Disc (4/1/2013)
Paperback (4/1/2003)
Description
Menolly needs more than music's power to make it as a Harper in the second book in the Harper Hall trilogy, set within science fiction legend Anne McCaffrey's beloved and bestselling Dragonriders of Pern series.

In the world of Pern, Harpers are more powerful than kings, for the music they play can control the minds of others. For young Menolly, her dreams of becoming a Harper have nothing to do with power, but rather her love of music. Now she is finally living out her musical dreams as an apprentice Harper, but it's turning out to be more challenging than she thought. Formerly forbidden to study music because of her gender, Menolly quickly encounters hostility from a number of her male peers and masters. With the help of new friends, teachers, and her nine tiny, colorful dragons, Menolly finds that her musical talents may be stronger than anyone could imagine.
Aladdin, 9780689860072, 288pp.
Publication Date: April 1, 2003
About the Author
Anne Inez McCaffrey (1926–2011) was an American-born Irish writer, best known for the Dragonriders of Pern science fiction series. Early in McCaffrey's forty-six-year career as a writer, she became the first woman to win a Hugo Award for fiction and the first to win a Nebula Award. Her 1978 novel The White Dragon became one of the first science fiction books to appear on the New York Times bestseller list. In 1999, she was the recipient of the Margaret A. Edwards Award, honoring her lifetime contribution to writing for teens. In 2005 the Science Fiction and Fantasy Writers of America named McCaffrey its twenty-second Grand Master, an annual award to living writers of fantasy and science fiction. She was inducted into the Science Fiction Hall of Fame in 2006.