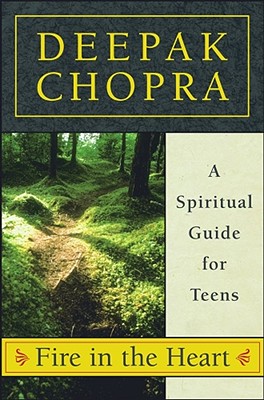 Fire in the Heart (Hardcover)
A Spiritual Guide for Teens
Simon & Schuster Books for Young Readers, 9780689862168, 208pp.
Publication Date: May 1, 2004
Other Editions of This Title:
Paperback (12/26/2006)
Compact Disc (6/25/2019)
Compact Disc (6/16/2005)
MP3 CD (6/25/2019)
* Individual store prices may vary.
Description
A fifteen-year-old boy is walking through a swirling fog on his way to school when a voice calls out, "Come here. We need to talk." Out of the mist emerges an old man with a white beard. He is a fantastic figure, as wizardly as Merlin, as wise as Socrates, as peaceful as Buddha. Whoever he is, the old man has appeared on that very day to change the boy's life.
"You are old enough to learn about things," he says mysteriously. "And who is going to teach you but me?"
The old man gives the boy four days of "soul training," a time of riddles, tricks, parables, and fantastic twists that bring out surprising answers to each of four burning questions about spirituality:
Do I have a soul?
How do wishes come true?
What is the supreme force in the universe?
How can I change the world?
The boy was Deepak Chopra, who grew up to become an acclaimed writer and teacher about the same invisible things that the old man had taught him. Fire in the Heart is Dr. Chopra's first book for young adults. Its aim is to pass on this soul training to young readers.
"The old man with the white beard showed me the spiritual side of life," writes the author, "where real passion and excitement come from. So before you begin, take a deep breath. This story could turn out to be yours."
"[Spirit is] everywhere, making sure that everything is connected. The light from a star billions of light years away is the same light that makes plants grow here on earth. The plants give food; the food has allowed you to develop in your mother's womb; and today you look at that star with the eyes that the stars gave you. There's the cosmic connection."
-- from Fire in the Heart
About the Author
Deepak Chopra, MD, has gained worldwide acclaim as a teacher and writer in fields as diverse as mind-body medicine, Ayurveda, the nature of God, and the path to success. Time magazine called him one of the 100 icons of the twentieth century, "the poet-prophet of alternative medicine." The author of more than sixty-four books translated into over eighty-five languages, including nineteen New York Times bestsellers, Dr. Chopra has sold more than twenty million copies of his books worldwide. He is the founder of the Chopra Center in Carlsbad, California.
Praise For Fire in the Heart: A Spiritual Guide for Teens…
Publishers Weekly starred review Chopra shows a great talent for explaining intangible and complex ideas lucidly and even grippingly, and teens are almost certain to respond to the intelligence and vividness of his presentation.

Time magazine [One of the top 100 heroes and icons of the century]...the poet-prophet of alternative medicine.

Mikhail Gorbachev Deepak Chopra is undoubtedly one of the most lucid and inspired philosophers of our times.
or
Not Currently Available for Direct Purchase