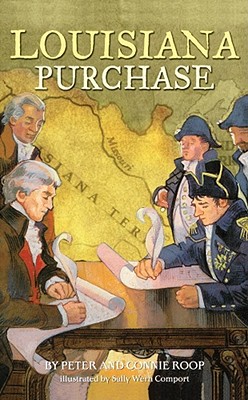 Louisiana Purchase (Ready-for-Chapters) (Paperback)
Aladdin, 9780689864438, 80pp.
Publication Date: October 1, 2004
Other Editions of This Title:
MP3 CD (9/30/2016)
* Individual store prices may vary.
Description
Uncharted Territory
In 1803 President Thomas Jefferson bought the Louisiana territory from the French for $15,000,000. The purchase made President Jefferson's dream of extending the U.S. west of the Mississippi River come true.
Now the much larger United States had difficult questions to answer: How would Louisiana be governed? How would it be divided into states? Would those states be free states or slave states? What would happen to the Native Americans? It would take over one hundred years, a war over slavery, and the creation of thirteen new states before these questions could be answered.
About the Author
Sally Wern Comport has illustrated numerous picture books and novels, including Love Will See You Through: Martin Luther King Jr.'s Six Guiding Beliefs; Brave Margaret: An Irish Adventure; Hanging Off Jefferson's Nose: Growing Up on Mt. Rushmore; and the Spy Mice series. She has also translated her picture making skills to various large scale public, private, and institutional artworks. Sally lives with her husband and two daughters in Annapolis, Maryland, where she operates Art at Large Inc. Learn more at ArtAtLargeInc.com.