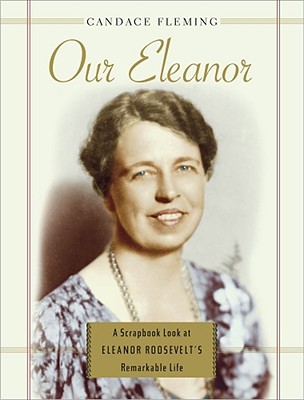 Our Eleanor
A Scrapbook Look at Eleanor Roosevelt's Remarkable Life
Hardcover

* Individual store prices may vary.
Description
No matter how the question is answered, one thing is clear: There has hardly been a life in the last century that Eleanor Roosevelt has not affected, in one way or another. From securing safe, low-cost housing for Kentucky's poor, to helping her grandchildren hang a tire swing on the White House's south lawn, to representing America as the first female delegate to the United Nations, Eleanor rarely kept a second of her life for herself -- and she wouldn't have had it any other way.
In this stunning scrapbook biography, Candace Fleming, author of the acclaimed Ben Franklin's Almanac, turns her keen eye to our nation's premier First Lady. Filled with photographs of everything from Eleanor's speech at the 1940 Democratic National Convention to her high school report card, as well as fascinating stories about life in and out of the White House, Our Eleanor gives us a remarkable perspective on a remarkable woman, and presents to a new generation an Eleanor to call its own.
Praise For Our Eleanor: A Scrapbook Look at Eleanor Roosevelt's Remarkable Life…
"[Franklin Delano Roosevelt's] most important political asset."

-- Jim Farley, chairman of the New York State Democratic Party



"A woman who does not know her place."

-- Winston Churchill



"The best-dressed woman of 1934."

--U.S. fashion industry



"The only one who comprehends the true meaning of democracy."

-- Marian Anderson, legendary black opera singer



"Candace Fleming has chronicled the life of Eleanor Roosevelt as no other. With photographs on every page and with special attention having been given each important person, place, and project, this book provides an exciting glimpse into a remarkable life. It will appeal to young and old alike."

-- Chandler Roosevelt Lindsley and Elliott Roosevelt Jr., grandchildren of Eleanor Roosevelt



"This book belongs in every school library and on the shelf of everyone who cares how America came to be the country we know. With thorough research and vivid storytelling, Candace Fleming brings to life a fascinating and complex woman. Through one engrossing tale after another, perfectly illustrated with historical photographs, Eleanor emerges from these beautiful pages; by midway, you half expect her to wander into your kitchen for tea at any moment."

-- Karen Blumenthal, author of Let Me Play



"Creating a unique form for biography -- the collage -- the author has given us a superbly rounded and penetrating portrait of one of our greatest women, Eleanor Roosevelt. No one can read it and not feel deeply grateful for her long service to the American people and to human rights the world round."

-- Milton Meltzer, five-time National Book Award finalist and author of There Comes a Time: The Struggle for Civil Rights


"Candace Fleming's portrait bursts at the seams with energy, and makes brilliantly clear why Eleanor Roosevelt is a perfect role model for American kids, and for kids around the world. Mrs. Roosevelt wasn't the head of her time, she's the head of our time."

-- James Carville



"In Our Eleanor Candace Fleming sets a new standard for the blending of an astonishing number of apt illustrations with fine writing and a strong sense of the ever-fascinating Eleanor Roosevelt."

-- Marc Aronson, author of the Sibert Award-winning Sir Walter Ralegh and the Quest for El Dorado



"Many children's book writers have written biographies of Eleanor Roosevelt, but I don't know of any that illuminated so many different facets of this remarkable woman's life and activities."

-- James Cross Giblin, winner of the Robert F. Sibert Award and author of The Amazing Life of Benjamin Franklin


Atheneum Books for Young Readers, 9780689865442, 192pp.
Publication Date: October 1, 2005
About the Author
Candace Fleming is the acclaimed author of numerous books for children, including the Bulldozer books; Ben Franklin's Almanac, an ALA Notable Book and an ALA Best Book for Young Adults, as well as Muncha! Muncha! Muncha!, Gabriella's Song, and When Agnes Caws, all ALA Notable Books. She lives in a suburb of Chicago.