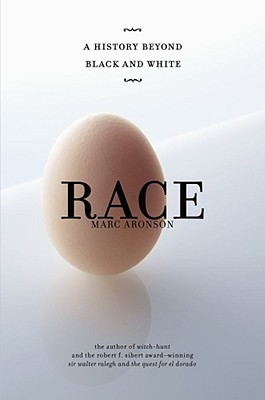 Race
A History Beyond Black and White
Hardcover

* Individual store prices may vary.
Description
From historian Marc Aronson comes a thought-provoking, revelatory young adult nonfiction history of the origins of racism.

Race. You know it at a glance: he's black; she's white. They're Asian; we're Latino. Racism. I'm better; she's worse. Those people do those kinds of things. We all know it's wrong to make these judgments, but they come faster than thought. Why? Where did those feelings come from? Why are they so powerful? Why have millions been enslaved, murdered, denied their rights because of the color of their skin, the shape of their eyes?

This astounding book traces the history of racial prejudice in Western culture back to ancient Sumer and beyond. Greeks divided the world into civilized and barbarian, medieval men wrote about the traits of monstrous men until, finally, Enlightenment scientists scrap all those mythologies and come up with a new one: charts spelling out the traits of human races.

Throughout most of human history, slavery had nothing to do with race. In fact, the idea of race itself did not exist in the West before the 1600s. But once the idea was established and backed up by "scientific" theory, its influence grew with devastating consequences, from the appalling lynchings in the American South to the catastrophe known as the Holocaust in Europe.
Praise For Race: A History Beyond Black and White…
Race: a noun or a verb? To race...To compete. White Black Yellow Red Brown: A race. Human beings: the race made from all races no matter how we compete for prestige...power...raw materials...resources.
Marc Aronson in his intelligent easy to ready exploration of Race is asking questions that we all need to ponder for in reality there is only one race: against time to save ourselves from the foolishness of race hatred...race baiting...race pride. This is a book to read with your whole family to discover which side of the race you are on. -- Nikki Giovanni
Atheneum Books for Young Readers, 9780689865541, 336pp.
Publication Date: November 6, 2007
About the Author
Marc Aronson is the acclaimed author of Trapped: How the World Rescued 33 Miners from 2,000 Feet Below the Chilean Desert, which earned four starred reviews. He is also the author of Rising Water: The Story of the Thai Cave Rescue and Sir Walter Ralegh and the Quest for El Dorado, winner of the ALA's first Robert F. Sibert Award for nonfiction and the Boston Globe-Horn Book Award. He has won the LMP award for editing and has a PhD in American history from New York University. Marc is a member of the full-time faculty in the graduate program of the Rutgers School of Communication and Information. He lives in Maplewood, New Jersey, with his wife, Marina Budhos, and sons. You can visit him online at MarcAronson.com.
or
Not Currently Available for Direct Purchase