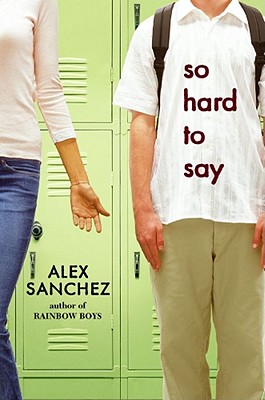 So Hard to Say (Hardcover)
Simon & Schuster Children's Publishing, 9780689865640, 240pp.
Publication Date: October 1, 2004
* Individual store prices may vary.
or
Not Currently Available for Direct Purchase
Description
Frederick is the shy new boy, and Xio is the bubbly chica who lends him a pen on the first day of class. They become fast friends -- but when Xio decides she wants to be more than friends, Frederick isn't so sure. He loves hanging out with Xio and her crew, but he doesn't like her that way. Instead he finds himself thinking more and more about Victor, the captain of the soccer team. But does that mean Frederick's gay? He hopes not -- he sees how everyone makes fun of Iggy, a boy all the other kids think is gay. Frederick has to deal with some tough choices: Even though he is curious about Iggy, he's just started fitting in at his new school, and he doesn't want to lose Xio, his best friend.
In So Hard to Say, Alex Sanchez, acclaimed author of the groundbreaking novels Rainbow High and Rainbow Boys, of which School Library Journal said, "It can open eyes and change lives," helps younger readers look at self-discovery, come to terms with being gay, and accept people who are different from them.
Praise For So Hard to Say…
Jacqueline WoodsonAuthor of LocomotionSo Hard to Say is funny and clever and heartbreaking and, ultimately, healing. Alex Sanchez takes the reader right up into the face of his characters and makes you feel all the angst of eighth grade again. I found myself cheering for Xio and Frederick and for all the cool and crazy kids in their world. I found myself wanting to meet them again in their grown-up futures! Isn't that wild?



James HoweAuthor of The MisfitsWhat strikes me most about So Hard to Say is the way the author respects the complexity of his young characters' lives and feelings. Frederick and Xio do not run away from the difficult questions their friendship poses -- questions about love, attraction, popularity, honesty, and identity. Bravo to Alex Sanchez for this tightly crafted and heartfelt novel. Its readers will recognize in its sympathetic characters the boy who sits next to them in class, the girl who lives down the street, and, just possibly, themselves.



Eric MarcusAuthor of What If Someone I Know Is Gay?Alex Sanchez writes about the kinds of kids who write to me about their real-life problems as they struggle with their sexuality and each other. In So Hard to Say he expertly captures Frederick and Xio's thoughts, emotions, and language and conveys them with such perfect pitch that you feel like you're right there with these two young people as they talk to you about their innermost feelings and thoughts.
Advertisement