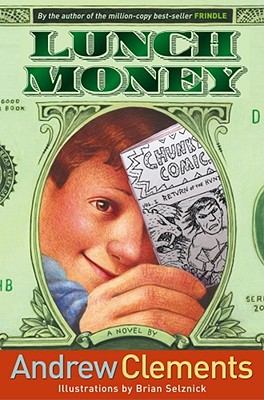 Lunch Money (Hardcover)
Atheneum Books for Young Readers, 9780689866838, 224pp.
Publication Date: July 1, 2005
* Individual store prices may vary.
Description
Greg Kenton has always had a natural talent for making money -- despite the annoying rivalry of his neighbor Maura Shaw. Then, just before sixth grade, Greg makes a discovery: Almost every kid at school has an extra quarter or two to spend almost every day.
Multiply a few quarters by a few hundred kids, and for Greg, school suddenly looks like a giant piggy bank. All he needs is the right hammer to crack it open. Candy and gum? Little toys? Sure, kids would love to buy stuff like that at school. But would teachers and the principal permit it? Not likely.
But how about comic books? Comic books might work. Especially the chunky little ones that Greg writes and illustrates himself. Because everybody knows that school always encourages reading and writing and creativity and individual initiative, right?
In this funny and timely novel, Andrew Clements again holds up a mirror to real life, and invites young readers to think about money, school, friendship, and what it means to be a success.