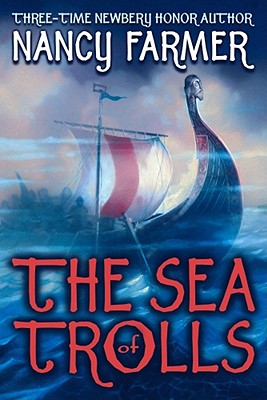 The Sea of Trolls
Hardcover

* Individual store prices may vary.
Other Editions of This Title:
Digital Audiobook (4/23/2009)
Mass Market (6/30/2015)
Paperback (6/1/2006)
Prebound (5/1/2006)
Compact Disc (7/28/2004)
Paperback (1/1/2006)
Description
Jack was eleven when the berserkers loomed out of the fog and nabbed him. "It seems that things are stirring across the water," the Bard had warned. "Ships are being built, swords are being forged."
"Is that bad?" Jack had asked, for his Saxon village had never before seen berserkers.
"Of course. People don't make ships and swords unless they intend to use them."
The year is A.D. 793. In the next months, Jack and his little sister, Lucy, are enslaved by Olaf One-Brow and his fierce young shipmate, Thorgil. With a crow named Bold Heart for mysterious company, they are swept up into an adventure-quest that follows in the spirit of The Lord of the Rings.
Other threats include a willful mother Dragon, a giant spider, and a troll-boar with a surprising personality -- to say nothing of Ivar the Boneless and his wife, Queen Frith, a shape-shifting half-troll, and several eight foot tall, orange-haired, full-time trolls. But in stories by award-winner Nancy Farmer, appearances do deceive. She has never told a richer, funnier tale, nor offered more timeless encouragement to young seekers than "Just say no to pillaging."
Praise For The Sea of Trolls…
Richie Partington www.richiespicks.com The Sea of Trolls nearly defies categorization, there are so many sides to it...the latest success in the career of one of the great storytellers of our time.

Scott Meyer Merritt Bookstore (Millbrook, NY) ...What Nancy Farmer does best -- show us that appearances do deceive. Or as the publishers say "She has never told a richer, funnier tale, nor offered more timeless encouragement to young seekers than 'Just say no to pillaging'."

Mary Brown Books, Bytes, and Beyond (Glen Rock, NJ) A new Nancy Farmer novel is always cause for celebrating because you know it will be something incredibly inventive and wholly absorbing. Nancy Farmer spins such complete stories that we don't need a sequel or even a prequel -- we just need another Nancy Farmer novel!

Rene Kirkpatrick All for Kids Books & Music (Seattle, WA) ...A fast-paced, very funny, adventure story, perfect for both boys and girls.

Susan Hirschman former longtime publisher of Greenwillow Books I think The Sea of Trolls is magnificent. Absolutely the best I've read. I read it in a gulp and was crushed when I had finished it. I wasn't ready to give up any of the characters. It is truly splendid.

Sarah Todd Hannah Schwartz's Children's Book World (Haverford, PA) Bringing her wit, high style, and flair for dramatic storytelling to The Sea of Trolls, Farmer makes Norse mythology and Saxon history both intriguing and enthralling. Dragons and trolls, wise women and bards, runes and lunatics...these are the makings of this great tale, and one deserving of fame.

Kathy Larkin Children In Paradise (Chicago, IL) The Norse stories are so full of buckle and swash, I am glad that the door to the land of the North has been opened again. Farmer's tale has dragons, swords, and brave hearts, what else does one need for a great read?

Zach (11 years old) Sea of Trolls is one of the best books ever. It's sorta like Harry Potter meets Lord of the Rings and they both meet Eragon. It rocks. It's a puzzling mystery but at the same time a comedy with tons of pusle pounding, adrenilene racing, page flipping things going on. It's awesome that Nancy Farmer can get you so excited about what you think is going to happen next, and then bam she swerves and has something completely unexpected happen that's even better than what you even hoped would happen. When will the next one be ready?

Walker (8 years old) Every night I wanted my Mom or Dad to read more. It was really exciting. It had Vikings, dragons, spiders, a boy who has lots of adventures, a magical land, a Queen who has her hair fall off and a crow. It made me laugh too.

Jamie (9 years old) This is the next Harry Potter and I loved it. I can't wait for the next book in the series.
Atheneum/Richard Jackson Books, 9780689867446, 480pp.
Publication Date: September 1, 2004
About the Author
Nancy Farmer has written three Newbery Honor books: The Ear, the Eye and the Arm; A Girl Named Disaster; and The House of the Scorpion, which also won the National Book Award and the Printz Honor. Other books include The Lord of Opium, The Sea of Trolls, The Land of the Silver Apples, The Islands of the Blessed, Do You Know Me, The Warm Place, and three picture books for young children. She grew up on the Arizona-Mexico border and now lives with her family in the Chiricahua Mountains of Arizona.