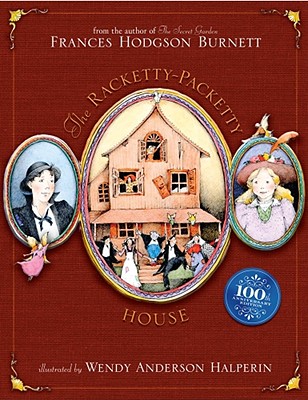 The Racketty-Packetty House (Hardcover)
Simon & Schuster Children's Publishing, 9780689869747, 90pp.
Publication Date: October 1, 2006
Description
Acclaimed illustrator Wendy Anderson Halperin celebrates Frances Hodgson Burnett's classic, a tale of two dollhouses, just in time for its 100th anniversary. When Tidy Castle arrives, brand-new and grand in every way, the Racketty-Packetty House has never looked shabbier, and it is shoved in the corner of Cynthia's nursery. But the Racketty family still dances, sings, and laughs louder than all the fancy dolls combined. When a real-life princess visits the nursery, the Rackettys learn that the humans are planning to destroy their house. Only a miracle -- or some very unusual magic -- can save them now Since its publication in 1906, the story of how Queen Crosspatch and her band of fairies rescued the Racketty-Packetty House has inspired dreamers and readers of all ages in the tradition of The Secret Garden and A Little Princess. Now Wendy Anderson Halperin's illustrations, brimming with whimsy and wonder, unlock the magic of two dollhouses -- one posh and one proud -- to a whole new generation of readers.
Praise For The Racketty-Packetty House…
"The Racketty-Packetty House is a beautifully illustrated charmer. It should bring great satisfaction to children with happy spirits but messy rooms!"
-- Gail Carson Levin, author of Ella Enchanted



"If you believe in fairies -- and if your dolls have adventures when you leave the room -- then Frances Hodgson Burnett has written a book for you. With brilliant storytelling and intriguing characters, she pulls readers into the world of the haves and have-nots -- only in this case the two classes both happen to be dolls. Burnett's old-fashioned, charming tale has been given beautiful new clothing for its 100th anniversary edition. Now it can delight the next generation of readers."
-- Anita Silvey, 100 Best Books for Children
Advertisement