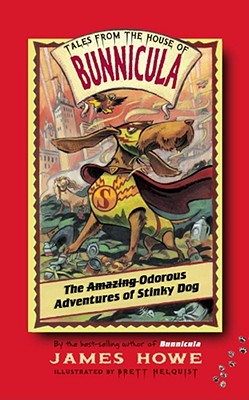 The Odorous Adventures of Stinky Dog (Tales From the House of Bunnicula #6)
Paperback

* Individual store prices may vary.
Other Editions of This Title:
Hardcover (9/1/2003)
Description
Dear possible reader of this book,
What's faster than a speeding bullet and more powerful than a pound of Gorgonzola cheese? It's Stinky Dog, the hero of my new book. By a stroke of fate (or is it destiny?) the lovable (not to mention cute) Howie Monroe is transformed into Stinky Dog, protector of the innocent. (Don't worry, he's still lovable.) (Not to mention cute.) The secret of Stinky Dog's power is Super Stench -- an odor so strong it can bend steel! (Am I good or what?) Joined by a smart-mouthed sidekick, a sparrow named Little D, Stinky Dog tries to save Center City from villainous, low-life, miserable, rotten, wicked, kindergarten-scissors-stealing gangs who roam the streets, knocking down little old ladies and running off with their handbags!
Your friend,
Howie
Atheneum Books for Young Readers, 9780689874123, 112pp.
Publication Date: September 1, 2004
About the Author
James Howe is the author of more than ninety books for young readers. Bunnicula, coauthored by his late wife Deborah and published in 1979, is considered a modern classic of children's literature. The author has written six highly popular sequels, along with the spinoff series Tales from the House of Bunnicula and Bunnicula and Friends. Among his other books are picture books such as Horace and Morris but Mostly Dolores and beginning reader series that include the Pinky and Rex and Houndsley and Catina books. He has also written for older readers. The Misfits, published in 2001, inspired the nationwide antibullying initiative No Name-Calling Week, as well as three sequels, Totally Joe, Addie on the Inside, and Also Known as Elvis. A common theme in James Howe's books from preschool through teens is the acceptance of difference and being true to oneself. Visit him online at JamesHowe.com.