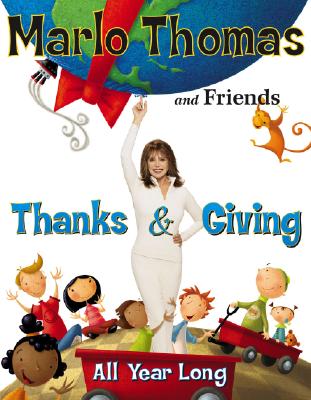 Thanks & Giving
All Year Long
Hardcover

* Individual store prices may vary.
Description
Did you ever
dream of talking to a mermaid?

Can you imagine
facing off with a bully who
barely reaches your knees?

What would you do
with a box of golden coins?

Have you ever
said thank you to...a button?

And how would you respond if you met a magic genie who asked you for a handout instead of granting you a wish?

Free to Be...You and Me creator Marlo Thomas has once again produced a joyful volume for children and the grown-ups in their lives. Reaching into the heads and hearts of our most acclaimed writers, artists, and performers, Thanks & Giving celebrates the best things in life -- family, friendship, giving, thankfulness, and love (and just for fun, a few of their opposites -- stinginess, bullying, ingratitude, and the occasional urge to stamp your feet and throw a fit).

From Tiger Woods and Maurice Sendak to Hilary Duff and Newbery Medalist Kate DiCamillo, this colorful collection of stories, poems, and songs will take readers on a lighthearted and thoughtful (but never overserious) adventure. Whether you're gazing at the brilliant child's-eye paintings of illustrator Eric Carle, or laughing out loud at the off-the-wall humor of Mel Brooks, you'll enjoy every step of the magical journey that the creators of Thanks & Giving have planned for you:

• Delight in Jon Scieszka and Lane Smith's fractured fable starring a mouse, a bird, and a sausage who learn all about sharing -- the hard way.

• Hold on tight as Rosie Perez recounts the tale of a little girl confronted with a heart-stopping decision.

• Rock along with Kevin and Michael Bacon's funky valentine to sibling rivalry and brotherly love.

• And laugh with Ray Romano as he reveals how his life was changed by a giant burrito.

Designed for both cover-to-cover reading and selective excerpting (when you can't refuse that last impassioned call for "One more story!" just before lights-out), this sparkling anthology also includes marvelous contributions from Avi, Shel Silverstein, Tom Chapin, Arthur creator Marc Brown, Matt Groening, Deepak Chopra, Donald Trump, Frankie Muniz, Walter Dean Myers, Paul Newman, Sumner Redstone, Jerry Pinkney, Whoopi Goldberg, Sonia Manzano, the Sesame Street Muppets, Julianne Moore, Ed Koren, Wendy Wasserstein, and Paul O. Zelinsky.
Simon & Schuster Books for Young Readers, 9780689877322, 96pp.
Publication Date: November 2, 2004
About the Author
Marlo Thomas graduated from the University of Southern California with a teaching degree. She is the author of six bestselling books: Free to Be…You and Me; Free to Be…a Family; The Right Words at the Right Time; The Right Words at the Right Time, Volume 2: Your Turn!; Thanks & Giving: All Year Long; and her memoir, Growing Up Laughing: My Story and the Story of Funny. Ms. Thomas has won four Emmy Awards, a Peabody Award, a Golden Globe, and a Grammy, and has been inducted into the Broadcasting & Cable Hall of Fame for her work in television, including her starring role in the landmark series That Girl, which she also conceived and produced. She is the National Outreach Director for St. Jude Children's Research Hospital, which was founded by her father, Danny Thomas, in 1962.

In 2010, Ms. Thomas launched her website, MarloThomas.com, on The Huffington Post and AOL. She lives in New York with her husband, Phil Donahue.

Christopher Cerf is an Emmy and Grammy award-winning author, composer, and producer. A charter contributing editor of the National Lampoon, Cerf has written more than 300 songs for Sesame Street and co-edited the celebrated newspaper parody Not The New York Times.