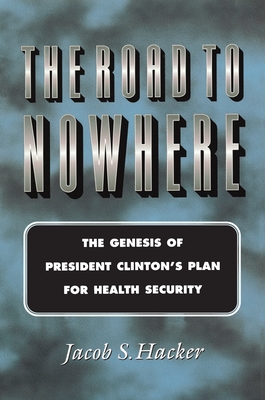 The Road to Nowhere
The Genesis of President Clinton's Plan for Health Security (Princeton Studies in American Politics: Historical #175)
Paperback

* Individual store prices may vary.
Description
During the 1992 presidential campaign, health care reform became a hot issue, paving the way for one of the most important yet ill-fated social policy initiatives in American history: Bill Clinton's 1993 proposal for comprehensive coverage under managed competition. Here Jacob Hacker not only investigates for the first time how managed competition became the president's reform framework, but also illuminates how issues and policies emerge. He follows Clinton's policy ideas from their initial formulation by policy experts through their endorsement by medical industry leaders and politicians to their inclusion--in a new and unexpected form--in the proposal itself. Throughout he explores key questions: Why did health reform become a national issue in the 1990s? Why did Clinton choose managed competition over more familiar options during the 1992 presidential campaign? What effect did this have on the fate of his proposal?
Drawing on records of the President's task force, interviews with a wide range of key policy players, and many other sources, Hacker locates his analysis within the context of current political theories on agenda setting. He concludes that Clinton chose managed competition partly because advocates inside and outside the campaign convinced him that it represented a unique middle road to health care reform. This conviction, Hacker maintains, blinded the president and his allies to the political risks of the approach and hindered the development of an effective strategy for enacting it.
Princeton University Press, 9780691005287, 256pp.
Publication Date: March 28, 1999
About the Author
Jacob S. Hacker is a Guest Scholar in Governmental Studies at the Brookings Institution, a doctoral candidate in political science at Yale University, and a Robert M. Leylan Fellow in Social Sciences at Yale University.