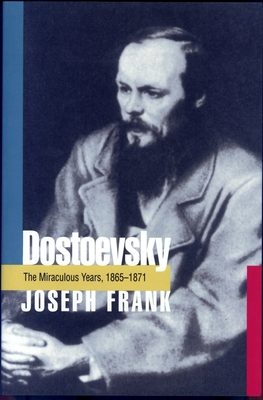 Dostoevsky
The Miraculous Years, 1865-1871
Paperback

* Individual store prices may vary.
Other Editions of This Title:
Paperback (11/21/1988)
Paperback (5/21/1979)
Description
This volume, the fourth of five planned in Joseph Frank's widely acclaimed biography of Dostoevsky, covers the six most remarkably productive years in the novelist's entire career. It was in this short span of time that Dostoevsky produced three of his greatest novels--Crime and Punishment, The Idiot, and The Devils--and two of his best novellas, The Gambler and The Eternal Husband. All these masterpieces were written in the midst of harrowing practical and economic circumstances, as Dostoevsky moved from place to place, frequently giving way to his passion for roulette. Having remarried and fled from Russia to escape importuning creditors and grasping dependents, he could not return for fear of being thrown into debtor's prison. He and his young bride, who twice made him a father, lived obscurely and penuriously in Switzerland, Germany, and Italy, as he toiled away at his writing, their only source of income. All the while, he worried that his recurrent epileptic attacks were impairing his literary capacities. His enforced exile intensified not only his love for his native land but also his abhorrence of the doctrines of Russian Nihilism--which he saw as an alien European importation infecting the Russian psyche. Two novels of this period were thus an attempt to conjure this looming spectre of moral-social disintegration, while The Idiot offered an image of Dostoevsky's conception of the Russian Christian ideal that he hoped would take its place.
Princeton University Press, 9780691015873, 544pp.
Publication Date: December 29, 1996
About the Author
Joseph Frank is Professor of Comparative Literature Emeritus at Princeton University and Professor of Comparative Literature and Slavic Languages and Literature Emeritus at Stanford University. For Dostoevsky: The Years of Ordeal, 1850-1859, Frank won the 1984 National Book Critics Circle Award for Biography. In addition to the previous volumes of Dostoevsky, he is the author of Through the Russian Prism: Essays on Literature and Culture (Princeton)