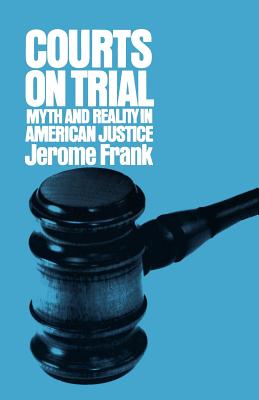 Courts on Trial (Paperback)
Myth and Reality in American Justice
Princeton University Press, 9780691027555, 456pp.
Publication Date: September 21, 1973
* Individual store prices may vary.
Description
CONTENTS: I. The Needless Mystery of Court House Government. II. Fights and Rights. III. Facts Are Guesses. IV. Modern Legal Magic. V. Wizards and Lawyers. VI. The "Fight" Theory versus the "Truth" Theory. VII. The Procedural Reformers. VIII. The Jury System. IX. Defenses of the Jury System--Suggested Reforms. X. Are Judges Human? XI. Psychological Approaches. XII. Criticism of Trial-Court Decisions--The Gestalt. XIII. A Trial as a Communicative Process. XIV. "Legal Science" and "Legal Engineering." XV. The Upper-Court Myth. XVI. Legal Education. XVII. Special Training for Trial Judges. XVIII. The Cult of the Robe. XIX. Precedents and Stability. XX. Codification. XXI. Words and Music: Legislation and Judicial Interpretation. XXII. Constitutions--The Merry-Go-Round. XIII. Legal Reasoning. XXIV. Da Capo. XXV. The Anthropological Approach. XXVI. Natural Law. XXVII. The Psychology of Litigants. XXVIII. The Unblindfolding of Justice. XXIX. Classicism and Romanticism. XXX. Justice and Emotions. XXXI. Questioning Some Legal Axioms. XXXII. Reason and Unreason--Ideals.
About the Author
Jerome Frank was distinguished as a lawyer, chairman of the SEC, federal judge, and writer.