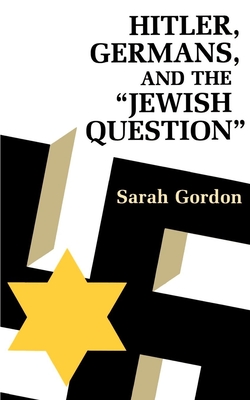 Hitler, Germans, and the Jewish Question
Hardcover

* Individual store prices may vary.
Other Editions of This Title:
Paperback (3/21/1984)
Description
This book probes the background of the ultimately unexplainable evil of our century, the deliberate and unprovoked murder of millions of European Jews--and goes on to explore German reactions to that evil. Depicting the emergence in Weimar Germany of a new type of extreme anti-Semite, of which Hitler was the paramount example, Sarah Gordon discusses a number of related questions about the role of anti-Semitism in the rise of the Nazis and draws on hitherto unexamined Gestapo files, new data on court sentences, and a variety of other sources to describe the tiny numbers of courageous Germans who opposed Nazi anti-Semitism. She analyzes Hitler's own deranged world view, his use of his feelings about Jews as a political tool, and the extent of the German people's knowledge of his intentions and actions; she examines the history of German anti-Semitism from 1870 through the Nazi years; and she indicates several reasons for thinking that anti-Semitism, however virulent in certain individuals and groups, was not the major reason for Nazi electoral successes.
No apologia for the German people, this work shows how a minority of extreme anti-Semites coexisted in Germany with the indifferent or fearfully disapproving majority, while the heroic few assumed the extreme risks of opposition. It offers a clear picture of the kinds of people who aided the Jews or publicly criticized their persecution, including surprising evidence of opposition in the Nazi party itself. In addition, it questions widely held beliefs that older Germans, males, Protestants, and the middle classes were disproportionately anti-Semitic; that bluecollar workers were basically immune to anti-Semitism; and that most Nazis were radical anti-Semites. It also discusses such subjects as the attitudes of German churches, the role of the military, and the socio-economic characteristics of Jews in Germany.
Princeton University Press, 9780691054124, 432pp.
Publication Date: March 21, 1984
or
Not Currently Available for Direct Purchase