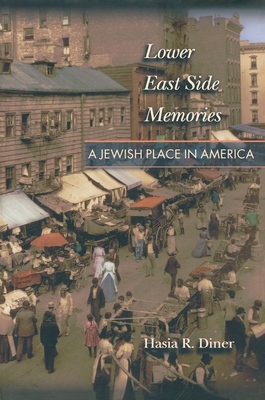 Lower East Side Memories (Paperback)
A Jewish Place in America
Princeton University Press, 9780691095455, 240pp.
Publication Date: March 3, 2002
* Individual store prices may vary.
Description
Manhattan's Lower East Side stands for Jewish experience in America. With the possible exception of African-Americans and Harlem, no ethnic group has been so thoroughly understood and imagined through a particular chunk of space. Despite the fact that most American Jews have never set foot there--and many come from families that did not immigrate through New York much less reside on Hester or Delancey Street--the Lower East Side is firm in their collective memory. Whether they have been there or not, people reminisce about the Lower East Side as the place where life pulsated, bread tasted better, relationships were richer, tradition thrived, and passions flared.
This was not always so. During the years now fondly recalled (1880-1930), the neighborhood was only occasionally called the Lower East Side. Though largely populated by Jews from Eastern Europe, it was not ethnically or even religiously homogenous. The tenements, grinding poverty, sweatshops, and packs of roaming children were considered the stuff of social work, not nostalgia and romance. To learn when and why this dark warren of pushcart-lined streets became an icon, Hasia Diner follows a wide trail of high and popular culture. She examines children's stories, novels, movies, museum exhibits, television shows, summer-camp reenactments, walking tours, consumer catalogues, and photos hung on deli walls far from Manhattan. Diner finds that it was after World War II when the Lower East Side was enshrined as the place through which Jews passed from European oppression to the promised land of America. The space became sacred at a time when Jews were simultaneously absorbing the enormity of the Holocaust and finding acceptance and opportunity in an increasingly liberal United States. Particularly after 1960, the Lower East Side gave often secularized and suburban Jews a biblical, yet distinctly American story about who they were and how they got here. Displaying the author's own fondness for the Lower East Side of story books, combined with a commitment to historical truth, Lower East Side Memories is an insightful account of one of our most famous neighborhoods and its power to shape identity.-- "Choice.
About the Author
Hasia R. Diner is the Paul S. and Sylvia Steinberg Professor of American Jewish History at New York University. Her books include In the Almost Promised Land: American Jews and Blacks, 1915-1935; A Time for Gathering: The Second Migration, 1820-1880; Erin's Daughters in America: Irish Immigrant Women in the Nineteenth Century; and Hungering for America: Italian, Irish, and Jewish Foodways in the Age of Migration.