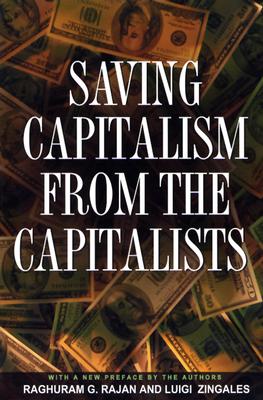 Saving Capitalism from the Capitalists
Unleashing the Power of Financial Markets to Create Wealth and Spread Opportunity
Paperback

* Individual store prices may vary.
Description
Saving Capitalism from the Capitalists is a groundbreaking book that will radically change our understanding of the capitalist system, particularly the role of financial markets. They are the catalyst for inspiring human ingenuity and spreading prosperity. The perception of many, especially in the wake of never-ending corporate scandals, is that financial markets are parasitic institutions that feed off the blood, sweat, and tears of the rest of us. The reality is far different.
This book breaks free of traditional ideological arguments of the Right and Left and points to a new way of understanding and spreading the extraordinary wealth-generating capabilities of capitalism.
Princeton University Press, 9780691121284, 369pp.
Publication Date: September 12, 2004
About the Author
Raghuram G. Rajan is currently Economic Counselor and Director of Research at the International Monetary Fund. He is on leave from the University of Chicago, where he is the Joseph Gidwitz Professor of Finance. In 2003, Rajan was awarded the inaugural Fischer Black Prize for the most significant contributions to the field of finance by a person under 40. Luigi Zingales is the Robert C. McCormack Professor of Entrepreneurship and Finance at the University of Chicago's Graduate School of Business. Zingales is one of the foremost academic experts on corporate governance and is an inaugural fellow of the recently instituted European Corporate Governance Panel. He is a faculty research associate at the National Bureau of Economic Research and a research fellow at the Center for Economic Policy Research. In 2003 he won the Bernacer Award for the best European young financial economist.