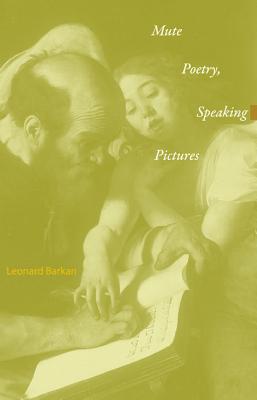 Mute Poetry, Speaking Pictures (Essays in the Arts)
Hardcover

* Individual store prices may vary.
Description
The skirmish between painting and poetry--from Plato and Praxiteles to Rembrandt and Shakespeare
Why do painters sometimes wish they were poets--and why do poets sometimes wish they were painters? What happens when Rembrandt spells out Hebrew in the sky or Poussin spells out Latin on a tombstone? What happens when Virgil, Ovid, or Shakespeare suspend their plots to describe a fictitious painting? In
Mute Poetry, Speaking Pictures
, Leonard Barkan explores such questions as he examines the deliciously ambiguous history of the relationship between words and pictures, focusing on the period from antiquity to the Renaissance but offering insights that also have much to say about modern art and literature. The idea that a poem is like a picture has been a commonplace since at least ancient Greece, and writers and artists have frequently discussed poetry by discussing painting, and vice versa, but their efforts raise more questions than they answer. From Plutarch (painting is mute poetry, poetry a speaking picture) to Horace (as a picture, so a poem), apparent clarity quickly leads to confusion about, for example, what qualities of pictures are being urged upon poets or how pictorial properties can be converted into poetical ones. The history of comparing and contrasting painting and poetry turns out to be partly a story of attempts to promote one medium at the expense of the other. At the same time, analogies between word and image have enabled writers and painters to think about and practice their craft. Ultimately, Barkan argues, this dialogue is an expression of desire: the painter longs for the rich signification of language while the poet yearns for the direct sensuousness of painting.
Princeton University Press, 9780691141831, 208pp.
Publication Date: November 25, 2012
About the Author
Leonard Barkan is the Class of 1943 University Professor of Comparative Literature at Princeton University. His books include Michelangelo: A Life on Paper (Princeton); Unearthing the Past: Archaeology and Aesthetics in the Making of Renaissance Culture; The Gods Made Flesh: Metamorphosis and the Pursuit of Paganism; and Satyr Square: A Year, a Life in Rome.