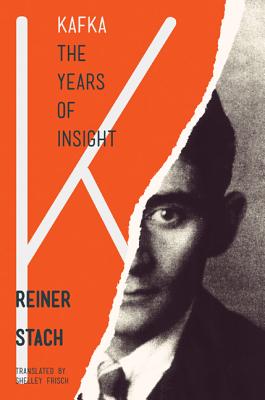 Kafka (Hardcover)
The Years of Insight
Princeton University Press, 9780691147512, 696pp.
Publication Date: June 9, 2013
Other Editions of This Title:
Paperback (9/5/2017)
Paperback (6/2/2015)
Hardcover (11/8/2016)
Paperback (6/9/2013)
Hardcover (11/1/2005)
* Individual store prices may vary.
Description
This volume of Reiner Stach's acclaimed and definitive biography of Franz Kafka tells the story of the final years of the writer's life, from 1916 to 1924--a period during which the world Kafka had known came to an end. Stach's riveting narrative, which reflects the latest findings about Kafka's life and works, draws readers in with nearly cinematic precision, zooming in for extreme close-ups of Kafka's personal life, then pulling back for panoramic shots of a wider world blighted by World War I, disease, and inflation.
In these years, Kafka was spared military service at the front, yet his work as a civil servant brought him into chilling proximity with its grim realities. He was witness to unspeakable misery, lost the financial security he had been counting on to lead the life of a writer, and remained captive for years in his hometown of Prague. The outbreak of tuberculosis and the collapse of the Austro-Hungarian Empire constituted a double shock for Kafka, and made him agonizingly aware of his increasing rootlessness. He began to pose broader existential questions, and his writing grew terser and more reflective, from the parable-like Country Doctor stories and A Hunger Artist to The Castle.
A door seemed to open in the form of a passionate relationship with the Czech journalist Milena Jesenska. But the romance was unfulfilled and Kafka, an incurably ill German Jew with a Czech passport, continued to suffer. However, his predicament only sharpened his perceptiveness, and the final period of his life became the years of insight.
About the Author
Reiner Stach worked extensively on the definitive edition of Kafka's collected works before embarking on this three-volume biography. Shelley Frisch's translation of the second volume was awarded the Modern Language Association's Aldo and Jeanne Scaglione Prize and her translation of the third volume was awarded the Helen and Kurt Wolff Translator's Prize. She has translated many other books from German, including biographies of Nietzsche and Einstein, and she holds a PhD in German literature from Princeton University.