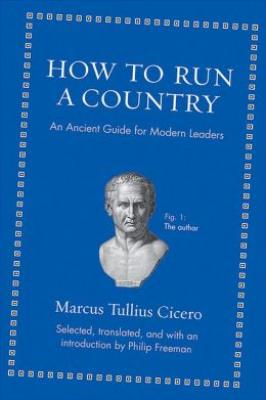 How to Run a Country
An Ancient Guide for Modern Leaders
Hardcover

* Individual store prices may vary.
Description
Timeless political wisdom from ancient history's greatest statesman
Marcus Cicero, Rome's greatest statesman and orator, was elected to the Roman Republic's highest office at a time when his beloved country was threatened by power-hungry politicians, dire economic troubles, foreign turmoil, and political parties that refused to work together. Sound familiar? Cicero's letters, speeches, and other writings are filled with timeless wisdom and practical insight about how to solve these and other problems of leadership and politics. How to Run a Country collects the best of these writings to provide an entertaining, common sense guide for modern leaders and citizens. This brief book, a sequel to
How to Win an Election
, gathers Cicero's most perceptive thoughts on topics such as leadership, corruption, the balance of power, taxes, war, immigration, and the importance of compromise. These writings have influenced great leaders--including America's Founding Fathers--for two thousand years, and they are just as instructive today as when they were first written. Organized by topic and featuring lively new translations, the book also includes an introduction, headnotes, a glossary, suggestions for further reading, and an appendix containing the original Latin texts. The result is an enlightening introduction to some of the most enduring political wisdom of all time.
Princeton University Press, 9780691156576, 152pp.
Publication Date: January 22, 2013
About the Author
Philip Freeman is the editor and translator of How to Win an Election: An Ancient Guide for Modern Politicians (Princeton) and the author of Oh My Gods: A Modern Retelling of Greek and Roman Myths, Alexander the Great, and Julius Caesar (all Simon & Schuster). He received his PhD from Harvard University and holds the Qualley Chair of Classical Languages at Luther College in Decorah, Iowa.