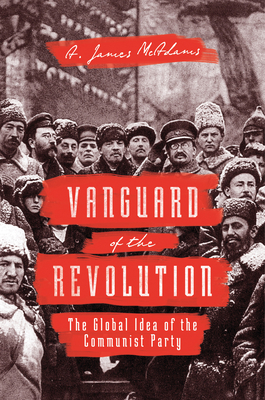 Vanguard of the Revolution
The Global Idea of the Communist Party
Hardcover

* Individual store prices may vary.
Other Editions of This Title:
Paperback (11/19/2019)
Description
The first comprehensive political history of the communist party
Vanguard of the Revolution
is a sweeping history of one of the most significant political institutions of the modern world. The communist party was a revolutionary idea long before its supporters came to power. In this book, A. James McAdams argues that the rise and fall of communism can be understood only by taking into account the origins and evolution of this compelling idea. He shows how the leaders of parties in countries as diverse as the Soviet Union, China, Germany, Yugoslavia, Cuba, and North Korea adapted the original ideas of revolutionaries like Karl Marx and Vladimir Lenin to profoundly different social and cultural settings. Taking readers from the drafting of
The Communist Manifesto
in the 1840s to the dissolution of the Soviet Union in the early 1990s, McAdams describes the decisive role played by individual rulers in the success of their respective parties--men like Joseph Stalin, Mao Zedong, and Fidel Castro. He demonstrates how these personalities drew on vying conceptions of the party's functions to mesmerize their followers, mobilize their populations, and transform their societies. He also shows how many of these figures abused these ideas to justify incomprehensible acts of inhumanity. McAdams explains why communist parties lasted as long as they did, and why they either disappeared or ceased to be meaningful institutions by the close of the twentieth century. The first comprehensive political history of the communist party,
Vanguard of the Revolution
is essential reading for anyone seeking to understand world communism and the captivating idea that gave it life.
Princeton University Press, 9780691168944, 600pp.
Publication Date: September 5, 2017
About the Author
A. James McAdams is the William M. Scholl Professor of International Affairs and director of the Nanovic Institute for European Studies at the University of Notre Dame. His many books include Judging the Past in Unified Germany and Germany Divided: From the Wall to Reunification (Princeton). He lives in South Bend, Indiana.