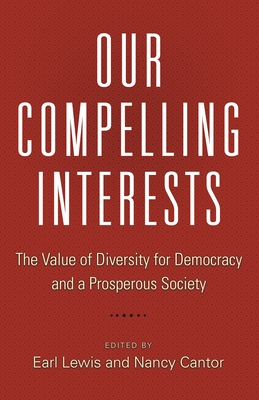 Our Compelling Interests (Hardcover)
The Value of Diversity for Democracy and a Prosperous Society
Princeton University Press, 9780691170480, 288pp.
Publication Date: September 6, 2016
Other Editions of This Title:
Paperback (10/17/2017)
* Individual store prices may vary.
Description
How diversity and difference strengthen democracy and increase prosperity
It is clear that in our society today, issues of diversity and social connectedness remain deeply unresolved and can lead to crisis and instability. The major demographic changes taking place in America make discussions about such issues all the more imperative. Our Compelling Interests engages this conversation and demonstrates that diversity is an essential strength that gives nations a competitive edge. This inaugural volume of the Andrew W. Mellon Foundation's Our Compelling Interests series illustrates that a diverse population offers our communities a prescription for thriving now and in the future.
This landmark essay collection begins with a powerful introduction situating the demographic transitions reshaping American life, and the contributors present a broad-ranging look at the value of diversity to democracy and civil society. They explore the paradoxes of diversity and inequality in the fifty years following the civil rights legislation of the 1960s, and they review the ideals that have governed our thinking about social cohesion--such as assimilation, integration, and multiculturalism--before delving into the new ideal of social connectedness. The book also examines the demographics of the American labor force and its implications for college enrollment, graduation, the ability to secure a job, business outcomes, and the economy. Contributors include Danielle Allen, Nancy Cantor, Anthony Carnevale, William Frey, Earl Lewis, Nicole Smith, Thomas Sugrue, and Marta Tienda. Commentary is provided by Kwame Anthony Appiah, Patricia Gurin, Ira Katznelson, and Marta Tienda.
At a time when American society is swiftly being transformed, Our Compelling Interests sheds light on how our differences will only become more critical to our collective success.
About the Author
Earl Lewis is president of the Andrew W. Mellon Foundation. His books include Love on Trial and Defending Diversity. Lewis was elected to the American Academy of Arts and Sciences in 2008. Nancy Cantor is chancellor of Rutgers University-Newark. Her books include Personality and Social Intelligence and Personality, Cognition, and Social Interaction. She was elected to the American Academy of Arts and Sciences and to the National Academy of Medicine in 2000.