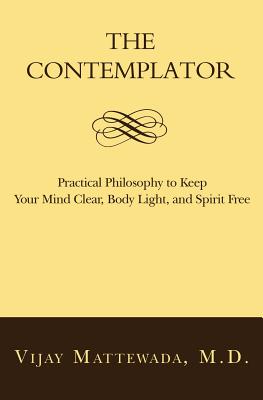 The Contemplator (Paperback)
Practical Philosophy to Keep Your Mind Clear, Body Light, and Spirit Free
Yampress Books, 9780692026458, 146pp.
Publication Date: May 1, 2014
* Individual store prices may vary.
Description
A book of beautiful contemplations to refresh your mind, body, and spirit by making philosophy accessible and useful. Written by a physician who has lived and suffered well. Heart-touching and thought-provoking Contemplation is a lost art, and chances are, you've completely forgotten how to be alone with your thoughts. Philosopher-physician Vijay Mattewada, MD, provides an accessible and relevant gateway to inner peace and clarity with his new book of aphorisms, The Contemplator: Practical Philosophy to Keep Your Mind Clear, Body Light, and Spirit Free. He provides a soothing tool for slowing down and carving a few moments of quiet and calm out of your day. He helps you understand the importance and life-changing benefits of a moment's pause in reflection-whether it's of nature, your soul, God, a personal burden, or a decision big or small. Before you know it, the inclination to step out of the daily grind, and away from the information highway, to stop and think, will become second nature. Ultimately, the goal of deliberation is a better understanding of yourself, your life, and your purpose for living. Dr. Mattewada's yogi-like approach to life will leave you convicted, encouraged, enlightened, and most importantly-contemplative. Author bio: A lifelong contemplator, Vijay Mattewada, MD, realized as a child that his thinking was different from those around him. His priorities did not fall in line with the world's desires for material possessions and power. Life is more than making a name and making money, which lead to much of the world's suffering and injustices. His observations, and coming to terms with his own life's mistakes, made him write down and compile his words of wisdom to share with others. For the past two years, overwhelming chronic fatigue syndrome has kept him homebound but allowed him to finish his book, The Contemplator, which has been ten years in the making. His desire is for his reflections on the mind, body, heart, and soul to bring out the contemplator hibernating within each person, so they can reach a place of spiritual fulfillment.