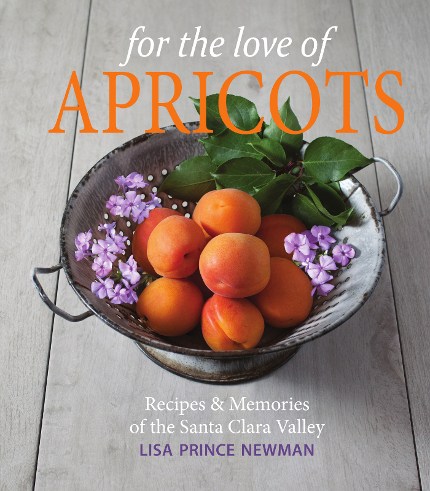 For The Love Of Apricots
Hardcover

* Individual store prices may vary.
Description
For the Love of Apricots: Recipes and Memories of the Santa Clara Valley is a feast for the eyes as well as the mind. Beautiful food photography blends with images of California's apricot orchards; from today as well as not so long ago, when fruit orchards covered much of the Santa Clara Valley landscape. Reflections on what the famed Valley of Heart's Delight was like, how it changed, and what remains, add another dimension to the cookbook.
Praise For For The Love Of Apricots…
"I took this beautiful book to bed and as I started reading this celebration of apricots I felt like I too was walking through the worlds' best apricot orchards. Lisa Newman shares her passion for apricots with superb savory and sweet recipes that can be used all year long. Dreaming apricots and heading straight to the farmer's market!"
Heidi Krahling
Renowned Chef/Owner of San Anselmo's lauded Insalata's and Marinitas restaurants, and author of "
Insalata's Mediterranean Table
"


Dear Lisa,

I first want to thank you for writing this beautiful book of your recipes and memories!
I grew up in Los Altos Hills in the 60's and 70's, surrounded by a small orchard of apricots. My mom baked every recipe imaginable for apricots and we all loved them dearly! Even our horse, Miss Clara, who had one apricot tree in her coral, ate the fruit she could reach and, believe it or not, spit out the seeds!
I have longed to find a recipe for apricot bars that is as good as my mom made, and have high hopes, that the recipe for bars mentioned in the newspaper article about you and your book, will be "it"! I ordered your book yesterday and look forward to receiving it and start baking!
Thanks again! All the best to you!

Linda Graser

P.S. Is there any possibility you might remember where you bought the beautiful apron you are wearing that is covered with botanical drawings of apricots? It is perfect! Thanks! :-)



Hi Lisa,

I just received For the Love of Apricots and I really love the book! I've made three recipes in just a few days -- the Apricot Dutch Baby, the Grilled and Curried Shrimp, and the Canapes. They were all delicious and the recipes were well-written and easy to make!

I collect cookbooks (I have over 1,300) and I think you did a great job. I want to make all the recipes and the story of the transformation of Santa Clara Valley is really compelling. I grew up in the Bay Area and it has been heartbreaking to see how the valley and San Francisco have changed. I so appreciate that you wrote this book and told the story. It is a treasure and I'm so happy to add it to my collection!

All the best,
Karen Schulman

Seattle, WA



Hi Lisa,

I walked into Andy's Orchard store today to pick up some cherrries and saw your cookbook "For the Love of Apricots" on the shelf. As a docent for the Morgan Hill Historical Society I always love picking up new local books, so I took a copy home with me. Although I haven't even cooked any of the amazing looking recipes, I just had to let you know that your book makes my heart sing. It is such a wonderful ode to the history of this Valley, and I will be gifting copies to family and friends far away so that they can finally understand why I love living next to the orchards in Morgan Hill so much.
Thank you for publishing such a treasure, and I wish you great success with it!

Stephanie Kershaw



I am delighted and pleased to have Lisa's Love Apricots messages arrive. I have to remember it is a blog and there are posts!!!!!
The latest April one included an interview with Lisa about Silicon Valley the way it was when she was young. Oh! it was terrific nostalgia for me. Her description was so meaningful beautifully said. I could actually see the acres and acres of fruit trees, blossom festivals (Saratoga), and harvests.

By the way, the photos are exceptional…

I am so very grateful to know about Lisa.

With love, Bobbi


Prince of the Orchards Publications, 9780692084861, 178pp.
Publication Date: May 31, 2018
or
Not Currently Available for Direct Purchase