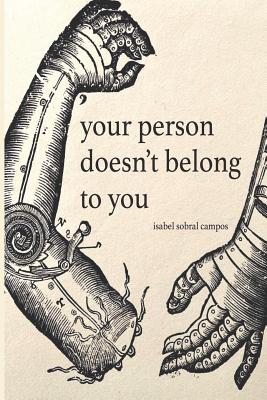 Your Person Doesn't Belong To You
Paperback

* Individual store prices may vary.
Description
"Your Person Doesn't Belong To You is a transformative work, immersed in the intermittence, light, and expansion of character as embodied and voiced by Jeanne d'Arc -- who here is a composite of historical figure, main character from Carl Dreyer's 1928 film The Passion of Joan of Arc, and manifestation of Isabel Sobral Campos' skillful and compassionate handle on poetic material. Campos uses a poly-vocal mode of address, a fluid array of changing forms, and an attentiveness to the overlaps and contrasts between relative time and absolute time in order to read and explore the inward movements of consciousness in states of visionary duress. Alchemical in its commitment to giving sonic shape to the near imperceptible, Your Person Doesn't Belong To You is mesmerizing, moving, and strange."
-- Anselm Berrigan
Vegetarian Alcoholic Press, 9780692150290, 90pp.
Publication Date: July 2, 2018