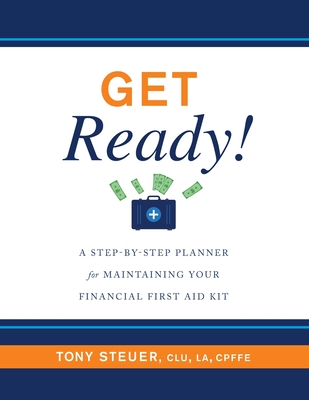 Get Ready! (Paperback)
A Step-By-Step Planner for Maintaining Your Financial First Aid Kit
Life Insurance Sage Press, 9780692163924, 258pp.
Publication Date: January 22, 2019
* Individual store prices may vary.
Description
Your Financial First Responder
This is the kind of book you want to have before an emergency happens. Whether you need to organize your finances in the event of a disaster or simply prepare yourself for life's inevitable changes, Get Ready will show you how to gather everything in one place and help you breathe easier.
Life is uncertain, and things happen. Award-winning author and financial guy, Tony Steuer, has created an emergency kit specifically stocked with tools and supplies that put you in charge of all the aspects of your financial life, making it a lifesaver, no matter your age or personal circumstance. Everyone needs to keep track of their finances. Get Ready provides you with a full head-to-toe exam of your financial life and checklist of all your basic needs, using a simple, organized, smart approach to preparedness.
You'll learn how to easily assess your situation, identify issues that need to be addressed, become better educated about your finances, and help organize important information for your heirs. You'll also find out how to maximize your resources and use simple tools and techniques to improve the health of your current financial plan. Preparing for an emergency is a critical step to your financial success. This workbook shows you how to take action and gather what you need before it's too late.
Get Ready is the most comprehensive financial first aid kit out there. It's financial-know-how + disaster preparedness, all in one planner.