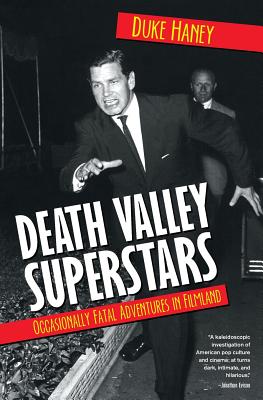 Death Valley Superstars
Occasionally Fatal Adventures in Filmland
Paperback

* Individual store prices may vary.
Description
"If it goes by, I've always known it was fickle," Marilyn Monroe once said of fame, an overriding theme in this collection of essays, profiles, and memoir by showbiz survivor Duke Haney. Fame proved faithful, of course, to Monroe, the book's most iconic subject, while others, like Steve Cochran, a villain in movies and a "hard-drinking, bed-hopping cop magnet" in reality, were widely forgotten before their untimely, often mysterious deaths. Taking an experimental tack in some instances, Haney employs a psychic medium to conduct a's ance at Jim Morrison's former residence and an astrologer to interpret the birth chart of an astrology-crazed film star-turned-bank robber. He attends the funeral of the "next James Dean" who became a raggedy street person, performs a cringeworthy nude scene in a movie produced by "King of the Bs" Roger Corman, and searches for the camper van where funk trailblazer Sly Stone has been reduced to living. Painstakingly researched and compulsively readable, Death Valley Superstars offers a kind of midnight tour of Los Angeles past and present, highlighting hidden corridors and seldom-heard anecdotes about a few of the many who, fooled by Hollywood's mirages, found themselves caught in its quicksand.
Delancey Street Press, 9780692172391, 306pp.
Publication Date: December 24, 2018