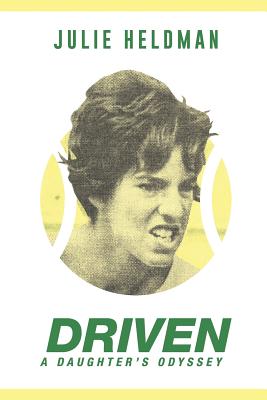 Driven
A Daughter's Odyssey
Paperback

* Individual store prices may vary.
Description
In the mid-20th century, the Heldmans were tennis royalty. Julie was a volatile and gutsy tennis star, twice ranked number 5 in the world. Her mother Gladys was broadly admired for her unique magazine, World Tennis, and for engineering the women's tennis revolution. No one guessed that Gladys's hidden emotional abuse was the source of Julie's powerful drive.Driven is a highly readable insider's account of a pivotal time in women's tennis history; an in-depth look at Gladys's complex character; and the revealing story of Julie's interior journey, both on and off the court.
Julie Heldman, 9780692172483, 444pp.
Publication Date: August 15, 2018
About the Author
Julie Heldman won 22 women's tennis tournaments, with victories over all the top stars of her era, including Billie Jean King, Margaret Court, Chris Evert, and Martina Navratilova. Julie represented the U.S. on two winning Federation Cup teams and at the 1968 Mexico City Olympics, where she won three medals, a gold, a silver, and a bronze. Her highest women's rankings were number two in the U.S. (twice) and number five in the world (twice). Julie has been inducted into the International Jewish Sports Hall of Fame, the Stanford Athletic Hall of Fame, the Intercollegiate Tennis Hall of Fame, the Eastern Tennis Hall of Fame, and the Dalton School Hall of Fame. Julie graduated from Stanford University in 1966. After retiring from competitive tennis in 1975, she worked for several years as a journalist and a tennis commentator on network TV. In 1981, at age 35, she graduated from UCLA Law School with honors and then practiced law for four years. After law school, Julie married Bernie Weiss, and in 1985, at age 39, Julie joined Bernie's startup eyewear business. Twelve years later, they took the company public. In 1987, Julie gave birth to their daughter Amy. In 1996, Julie was diagnosed with bipolar disorder. Four years later, she suffered a cataclysmic breakdown that lasted 15 years, with only one eight-month respite during 2011-12. Driven: A Daughter's Odyssey is Julie's first book.