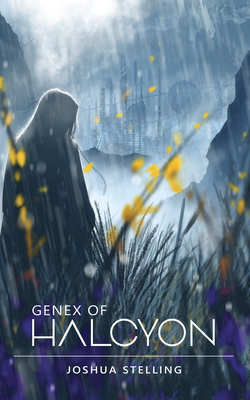 Genex of Halcyon
Paperback

* Individual store prices may vary.
Description
"Something special and unique in its genre. Worth reading the first time and even worth revisiting to explore its complex, fresh ideas." "In the dystopian genre, this can be a difficult line to walk, but Stelling does it masterfully." "[The] writing in this book is beautiful." — Steph Huddleston, The Independent Book Review

"Atmospheric and lyrical, telling the story like it took place in a dream without slowing the pace or dulling the storyline." — Jennia Ahava, Blogger

In this near-future utopia, in Halcyon all are free. People with wings fly alongside skyline railcars, between the towers. They are more than what we've known as human, the next stage of our evolution. Amid the psychic computers and genetic freaks, competitive laser sports and mindless bots, runs a love triangle stronger than death itself. Over these three nights in 2051, Harmony and Azad must find their way through misfits and prophets, blood and tears, to new horizons. Their fate, in the time of climate change, in the afterglow of the rise of machines, is entwined with the world.
 
Praise For Genex of Halcyon…
"A soaring vision of the near future. Genex of Halcyon is, quite simply, an outstanding literary work of sci-fi that pushes the boundaries of expression and self-realization." —Diane Donovan, Midwest Book Review
Arch & Gravity Publishing, 9780692184271, 252pp.
Publication Date: September 24, 2019
About the Author
Joshua Stelling is a poet and music lover who has spent a lot of his time running record stores around Denver, building his own art on the side. In time, the stories inside the man have boiled over, becoming worlds, and his pages turned into books. Combining hard sci-fi and adult fiction with a fluent love of metaphor and poetry, his work will challenge you but leave you wanting more.