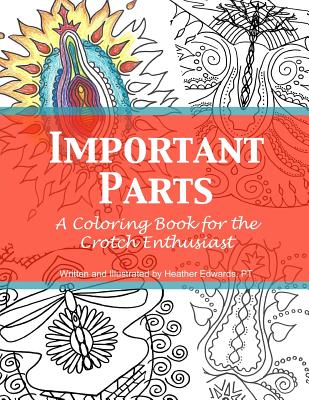 Important Parts (Paperback)
A Coloring Book for the Crotch Enthusiast
Heather Edwards, 9780692190630, 56pp.
Publication Date: September 15, 2018
* Individual store prices may vary.
Description
This book is for anyone with a crotch. There are cock-n-balls and vajayjays all over it, so a good sense of humor will really help you enjoy your coloring time. If you have a complicated relationship with your crotch, this book is here to help with fun and approachable images. I empower you at the beginning to learn about the parts that you'll be coloring with suggestions for standard anatomical terms, and then terms that are less common but still legit - but gender neutral. Next, I invite you to draw your own custom crotch. Finally, I give you a bunch of my fantastical genital doodles that span the gender spectrum and also the anatomical variation spectrum, so no matter who you are, there should be something that feels good. Have fun with it.
About the Author
Heather Edwards is a pelvic Physical Therapist and University of Michigan trained Sexuality Counselor and Educator. She conducts research and outreach projects in the LGBT, trans/nonbinary, and kink communities. She is the founder and host of Vino & Vulvas, an Asheville-based sexuality event that connects sexual health practitioners with the public in the form of taboo discussions in public places. Vino & Vulvas provides the perfect excuse to justify her somewhat odd fascination with drawing fantastical genitals. When you talk about sex for a living, you've gotta have some diagrams. They might as well be interesting!