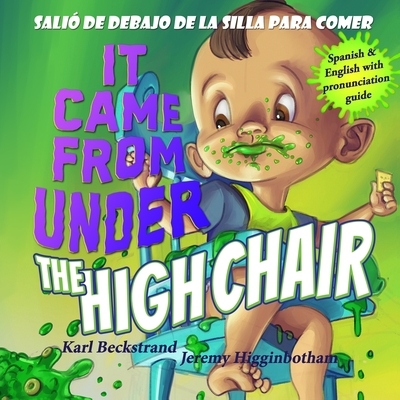 It Came from Under the High Chair - Salió de debajo de la silla para comer
A Mystery (in English & Spanish)
Paperback

* Individual store prices may vary.
Other Editions of This Title:
Paperback (4/8/2019)
Hardcover (7/20/2019)
Description
(Parts of speech)
"Brilliant...teaching at the same time. Fantastic book." - Amanda Williams, U.K. A mysterious visitor brings intrigue, excitement, and laughs to a biracial family.
Text & pronunciation guide in Spanish & English
Prepositions list
Multicultural characters
Finding & online secrets
Dyslexic-friendly type
In Publisher's Weekly. Elena is a sensible child. Unlike her wacked-out brother Benjamin, she sticks to reason and facts-but not for long. Elena's practical world is about to be turned on its ear thanks, in part, to her baby brother Ivan...and an unusual guest. Kids love to find "it" and count its shapes (girls or boys ages 4+ ESL/ELL, preschool - 8th grade).
Look inside
A funny bilingual picture book of monsters and heroes vividly illustrated by Jeremy Higginbotham. The perfect length book for kids (not too long for adults): 36 full-color illustrations, 800 read-aloud words (double for the bilingual book) by best-selling, award-winning author and media professor Karl Beckstrand (see 60+ diverse books-click Karl Beckstrand above). Get this gross monster book in Spanish-only, English-only, hard/soft/ebook versions. 8.5"x8.5" children's book with Filipino and Pacific Islander/mixed race characters.
Read the entire Mini-mysteries for Minors series
(#5, stand-alone-previous title not needed; others in the series:
Sounds in the House - Sonidos en la casa, Crumbs on the Stairs - Migas en las escaleras, She Doesn't Want the Worms, Why Juan Can't Sleep
). None of our books lecture on gender or orientation. Libro misterioso para ni os de 4 a os y arriba.
For free lesson plans and videos
, see Premio Publishing & Gozo Books (worldwide rights (c)July 2019) PremioBooks, libraries, and all major distributors. LCCN: 2019901686; JUV028000, JNF020030, JUV009080, JUV030080, JUV009030, JUV052000, JUV071000, JUV019000, HUM001000, HUM000000; Soft ISBN: 978-0692220993, Hard ISBN: 978-1732069664, eISBN: 978-0463454855.
Premio Publishing & Gozo Books, LLC, 9780692220993, 38pp.
Publication Date: June 11, 2019