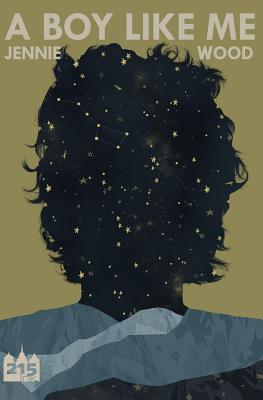 A Boy Like Me (Paperback)
215 Ink, 9780692238066, 270pp.
Publication Date: July 30, 2014
* Individual store prices may vary.
Description
Born a girl, Peyton Honeycutt meets Tara Parks in the eighth grade bathroom shortly after he gets his first period. It is the best and worst day of his life. Determined to impress Tara, Peyton sets out to win her love by mastering the drums and basketball. He takes on Tara's small-minded mother, the bully at school, and the prejudices within his conservative hometown. In the end, Peyton must accept and stand up for who he is or lose the woman he loves.
About the Author
Jennie Wood is the creator and writer of Flutter, a graphic novel series. Flutter, Volume One: Hell Can Wait, the first graphic novel in the series, is available on 215 Ink. The Advocate calls Flutter one of the best LGBT graphic novels of 2013. She is also a contributor to the award-winning, New York Times best-selling comic anthology, FUBAR: Empire of the Rising Dead and FUBAR: American History Z. Born and raised in North Carolina, Jennie currently lives in Boston, Massachusetts, with her girlfriend. She writes non-fiction features for infoplease.com and teaches at Grub Street, Boston's independent writing center. Learn more about Jennie's work at jenniewood.com. Author photo by Michael Benabib, courtesy of Kobo Writing Life
Praise For A Boy Like Me…
"This story of a trans boy falling in love with a girl in high school is delightful and heartwarming in all the right places. Wood perfectly captures the intensity and immediacy of adolescent ups and downs." - Emerson M. Fuller, Foreword Reviews

"A classic love story! Wood gets all the details of a trans individual coming-of-age into this novel. From the feelings about clothes, to the relationships with parents to the negotiations of life at school, this story rings true. Wood takes care with her setting and makes life, as painful and joyful as it can be, realistic. This novel is a great examination of what it means to come to terms with who you are and what it means to be true to yourself." - Alex Myers, author of Revolutionary

"A Boy Like Me is a big-hearted novel narrated by an unforgettable character: Peyton, a boy trapped in the body of a girl. As he navigates his complicated coming-of-age, Peyton's powerhouse voice - funny, sad and charming, riding edges of both humor and pathos - renders his experience universal. I cheered Peyton on even as I cringed at some of his understandable missteps; continued rooting for him through the book's sweet surprise of an ending; and carry him with me now as I do anyone, real or imagined, who touches my soul." - Lisa Borders, author of The Fifty-First State and Cloud Cuckoo Land

"When Peyton Honeycutt meets Tara Parks, the infatuation only begins with the music they create together. Told in Peyton's yearning, funny, and angst-ridden voice, a voice that captures the pain of our teenaged years through Wood's own musician's ear and authenticity, A Boy Like Me is also a novel with its secrets. It implicates us by turning our presumptions on their head. The story reveals the way love forces us to become more of who we are before we prove ready to love in return."
- Michelle Hoover, author of The Quickening