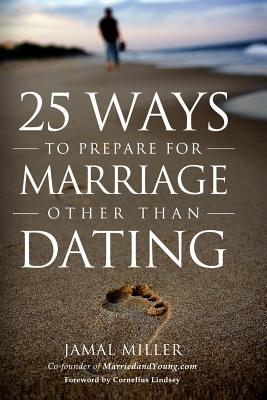 25 Ways to Prepare for Marriage Other than Dating
Paperback

* Individual store prices may vary.
Description
In 25 Ways To Prepare For Marriage Other Than Dating, Jamal Miller shares invaluable insights from his life's journey that will help you discern the season you're in, overcome relational insecurities, and empower you to be the best you can be for your future spouse. Stop agonizing over singleness and make peace with your current season. Everything you do before you say "I do" is preparation for marriage. Replace the fear of being alone with the focus and action to mature in Christ, build your character, and position yourself for the best God has for you.
Miller Media & Communications, 9780692250716, 136pp.
Publication Date: July 27, 2014
About the Author
Jamal Miller is the Co-Founder of Married and Young.com, a community committed to doing relationships God's way, alongside his wife Natasha Miller. Married and Young.com in less than 4 months has had over 70,000 readers to the site. Jamal has been in Pastoral Ministry for over 8 years, graduating from Christ for the Nations Institute with his Practical Theology Degree and Ecclesia College with his Bachelors in Christian Leadership. His passion for marriage and healthy relationships has influenced thousands to do it God's way! Jamal is an Associate Pastor at People's Church in Oklahoma City, OK where he resides with his wife.