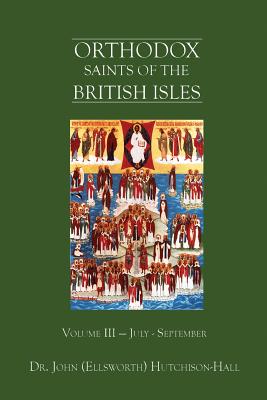 Orthodox Saints of the British Isles
Volume III - July - September
Paperback

* Individual store prices may vary.
Other Editions of This Title:
Paperback (9/1/2017)
Paperback (12/11/2013)
Description
This is the first, and only, compendium to be written of the Lives of Orthodox Saints of the British Isles. Covering July through September, this third of four volumes provides an enlightening guide to another 158 of these inspiring and historic Orthodox men and women. These saints were not only key figures in the development of the Church; they are an intrinsic part of the fabric of the history of the British Isles, and by extension the entire Western world. As St. John of Shanghai and San Francisco reminded us, the West was Orthodox for a thousand years; he believed that in whatever land an Orthodox Christian found himself, it was his responsibility to venerate and pray to its national and local Saints. Orthodox Saints of the British Isles offers readers from all backgrounds insight into the importance of these righteous men and women. Filled with the Grace of God, from the humblest monks to the most devout martyrs and powerful kings, their faith influenced the development and spread of Christianity not just in the British Isles, but throughout the western world.
St. Eadfrith Press, 9780692257661, 250pp.
Publication Date: August 25, 2014
About the Author
Dr. John (Ellsworth) Hutchison-Hall is a contemporary Orthodox Christian Pastoral and Moral theologian, philosopher, historian and cultural commentator. He has served as a Field Education Supervisor for seminarians, and as both a hospital and disaster response chaplain. In addition, he has run support groups for people with mental illness, and provides pastoral counselling. He has lectured widely and written on pastoral care in disaster, and compiled several service books. His latest work "Orthodox Saints of the British Isles" is the first comprehensive compendium of the Lives of Orthodox saints of the British Isles; it will total four volumes and be followed by a multi-volume work of the Lives of Orthodox saints of pre-Schism Western Europe. He has a Licentiate in Pastoral Theology and a Doctorate of Ministry in Pastoral Counselling.