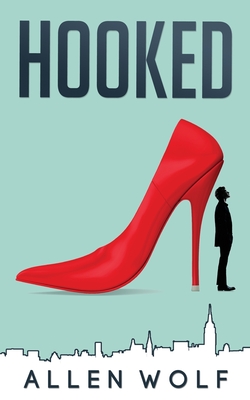 Hooked (Paperback)
Morning Star Publishing, 9780692274279, 240pp.
Publication Date: February 10, 2015
Description
Desperate to find a soulmate in New York City, Shawn experiences one awkward date after another until he encounters the alluring Violet. He asks her out, but his autism prevents him from understanding she's actually a prostitute.

Drawn in by his kindness, Violet appreciates Shawn's quirky nature but conceals what she does after dark. Shawn soon imagines Violet could be his perfect wife while Violet thinks Shawn could be her ticket to a new life.

This comedic tale of two misfits takes a dramatic turn when they face an unexpected crisis. Their only hope for a future is to discover the courage that comes from loving someone deeply.
About the Author
Allen Wolf has won multiple awards for his storytelling as a feature film writer, director and producer. He married a Persian princess and they are raising their precocious daughter together while expecting a son. He enjoys travelling around the world and hearing people's life stories. The screenplay upon which his novel Hooked is based has won numerous accolades. His first feature film, In My Sleep, was released throughout the world, won multiple film festivals and is available on Amazon and iTunes. Allen is also a multiple award-winning board game creator. His games - You're Pulling My Leg!, Slap Wacky, JabberJot, Pet Detectives and You're Pulling My Leg! Jr., - have won 38 awards and are available on Amazon. Allen graduated from New York University's film school where his senior thesis film, Harlem Grace, won multiple festival honors and was a finalist for the Student Academy Awards. Allen cherishes reading to his daughter, traveling with his family, chocolate and visiting Disneyland.
Praise For Hooked…
"Wolf, an award-winning filmmaker, has adapted this first novel from his own original screenplay, and its cinematic potential clearly shows. The high-concept narrative is entertaining, well-paced, and highly visual … it's a charming, humorous, and hopeful tale. A quirky, touching love story that offers insights into autism, religion, and personal tragedy." -- Kirkus Reviews

Love is one of the most powerful and mysterious forces in the world. In Hooked, Allen Wolf explores the depth of this binding force in hilarious and inventive ways, and makes us think about what it is that brings two unlikely people together.
— Tom Zoellner, Author of The Heartless Stone: A Journey Through the World of Diamonds, Deceit and Desire

A very sweet and endearing romantic comedy, with an excellent relationship between Violet and Shawn at the center.
– The Black List

Incredible characters and story.
- Cinequest

Hooked is a sweet, touching story that works to bring out the best in people, using autism as a backdrop.
– Tracking Board

A lot of heart, poignancy and charm.
– Coverage Ink
Advertisement