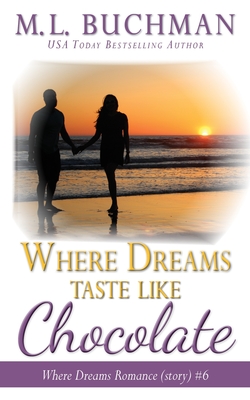 Where Dreams Taste Like Chocolate (Paperback)
a Pike Place Market Seattle romance
Buchman Bookworks, Inc., 9780692309865, 82pp.
Publication Date: October 8, 2014
Other Editions of This Title:
Paperback (8/17/2017)
* Individual store prices may vary.
Description
-a Where Dreams romance story-
Tony Bosco, itinerant chocolatier, has returned to Seattle to work in his cousin's shop; a legacy from their past. But only when he searches for the heart behind their granddad's recipes does he begin to discover his own gifts.
Raquel Wells has been instrumental in creating the business success of Perrin's Glorious Garb clothiers. Her weekly treat, two pieces of Bosco chocolate. Next? Find the man to fulfill Stage Three of her Personal Life Plan, which is right on track, until her meticulous agenda is sideswiped by Tony. Their futures await Where Dreams Taste Like Chocolate.
About the Author
M. L. Buchman has over 30 novels in print. His military romantic suspense books have been named Barnes & Noble and NPR "Top 5 of the year" and Booklist "Top 10 of the Year." In addition to romance, he also writes thrillers, fantasy, and science fiction. In among his career as a corporate project manager he has: rebuilt and single-handed a fifty-foot sailboat, both flown and jumped out of airplanes, designed and built two houses, and bicycled solo around the world. He is now making his living as a full-time writer on the Oregon Coast with his beloved wife. He is constantly amazed at what you can do with a degree in Geophysics. You may keep up with his writing by subscribing to his newsletter at www.mlbuchman.com.