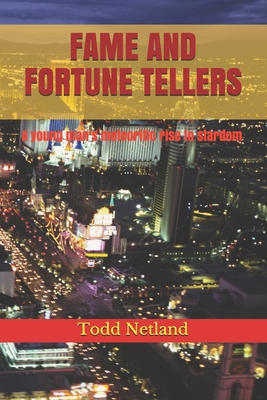 Fame and Fortune Tellers (Paperback)
A young man's meteoritic rise to stardom
Todd Netland, 9780692316771, 390pp.
Publication Date: October 15, 2014
Other Editions of This Title:
Paperback (4/15/2015)
* Individual store prices may vary.
Description
A NOVEL OF SUSPENSE, INTRIGUE, DANGER, HUMOR, AND ROMANCE: Todd Netland's novel, FAME AND FORTUNE TELLERS, underscores the rise to the top of one man, Randy Miller, in the pop music racket. Randy is propelled to fame and fortune via the prophecy of a spiritualist. He later finds out that the glitter of being a rock star is not all that it's cracked up to be, and he ultimately finds out what is really on the other side of death. This is a fast-paced novel of suspense, intrigue, and danger with several sub-plots, with the intention to add excitement and color to this story. This book explores ideas and spiritual concepts that many people would be afraid to tackle, and the humor and heart-warming emotional scenes add flavor to this novel.
About the Author
Todd Netland was born in 1956. He has limited eyesight, due to congenital cataracts, and also was diagnosed with infantile autism at the age of four. The Lord has helped him to overcome much. He is an accomplished pianist, composer, and arranger. During the 1980s, he traveled full-time with the gospel music group, SOUND OF JOY. During the 1990s, he traveled with Jon Stemkoski's CELEBRANT SINGERS as a keyboardist. Netland has traveled to all fifty states and more than fifty countries, sharing the love of Jesus through his God-given musical talent and personal testimony. Netland's reading interests lie in such authors as Frank Peretti, C. S. Lewis, Catherine Marshall, Herman Wouk, and Peter Marshall. Todd Netland presently resides in Concord, California, and works as a keyboardist at New Hope Church International. He continues to travel part-time with the CELEBRANT SINGERS. He had the privilege of traveling with them to Malta during the summer of 2015.