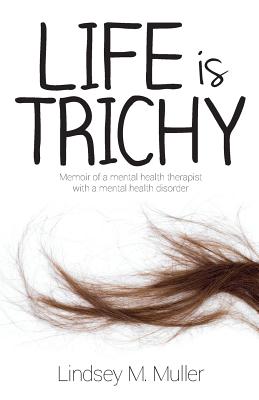 Life is Trichy (Paperback)
Memoir of a mental health therapist with a mental health disorder
Mindful Publishing Co., 9780692322444, 192pp.
Publication Date: November 23, 2014
* Individual store prices may vary.
Description
LIFE IS TRICHY is the true story, a psychology memoir, of a twenty-nine-year-old lifelong perfectionist, who struggled with the mental health disorders of skin picking, nail biting, and hair pulling. Starting from a young age, this resulted in years spent hiding her body focused repetitive behaviors from everyone she knew, while simultaneously pursuing a professional career in psychology to treat others with the same exact challenges. She tactfully weaves the actions, feelings, and thoughts from years of sitting in the patient's seat, with her professional, psychological knowledge in the clinician's seat. Lindsey's personal struggle mixes with factual information to elucidate the tricky and unspoken truth about a classification of disorders affecting approximately five percent of the population. Life is Trichy is appropriate for clinicians, patients, family and friends of hair pullers, and curious minds.
About the Author
Lindsey Marie Muller was born and raised in South Florida. She holds a Master's degree in Clinical/Counseling Psychology, a Master's degree in Clinical Psychology, in addition to three years of doctoral level education. She currently resides in Los Angeles, California where she enjoys the perfect weather, exercising, healthy cooking, sugar-free baking, spas, and meditation. She currently works in private practice. Life is Trichy is her first publication.
Praise For Life is Trichy: Memoir of a mental health therapist with a mental health disorder…
"..I am just about done with the book and it's just so inspiring that I can't put it into words.."

"...I stopped reading for pleasure during college. I found that I would read and read and look down to find a mound of hair accumulated next to me. This is the first book I have read without pulling a single hair..."

"..this book perfectly captures my struggle..."

"..it helps so much to learn more about these disorders.."