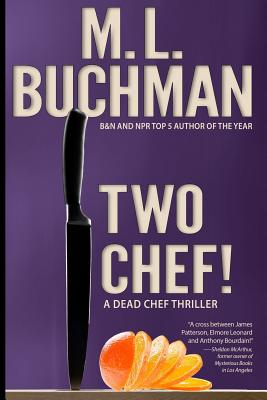 Two Chef! (Paperback)
Buchman Bookworks, Inc., 9780692328293, 314pp.
Publication Date: November 6, 2014
* Individual store prices may vary.
Description
-a Dead Chef thriller-
Don't leap out of the pan and into the deep fryer Chefs are dying Murder in a Cooks Network TV studio Death of the master chef at a G-8 meeting in the Scottish Highlands
The FBI, the British Diplomatic Protection Group, and a far too handsome U.S. Secret Service agent are on the hunt for the same ingredient:
Kate Stark - owner of Cooks Network - former Secret Service - suspect for treason - leader of a band of misfits.
Can she remove herself from the mix? Or will the blend of international intrigue and lawless computer hackers ruin the meal? Death toll so far? TWO CHEF
About the Author
M. L. Buchman has over 40 novels in print. His military romantic suspense books have been named Barnes & Noble and NPR "Top 5 of the year" and twice Booklist "Top 10 of the Year," placing two titles on their "Top 101 Romances of the Last 10 Years" list. He has been nominated for the Reviewer's Choice Award for "Top 10 Romantic Suspense of 2014" by RT Book Reviews. In addition to romance, he also writes thrillers, fantasy, and science fiction. In among his career as a corporate project manager he has: rebuilt and single-handed a fifty-foot sailboat, both flown and jumped out of airplanes, designed and built two houses, and bicycled solo around the world. He is now making his living as a full-time writer on the Oregon Coast with his beloved wife and is constantly amazed at what you can do with a degree in Geophysics. You may keep up with his writing by subscribing to his newsletter at www.mlbuchman.com