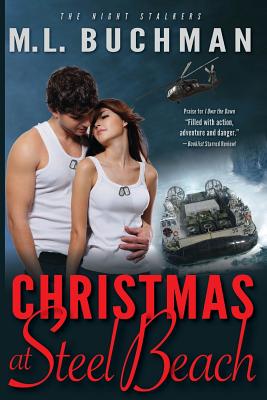 Christmas at Steel Beach (Paperback)
Buchman Bookworks, Inc., 9780692336687, 164pp.
Publication Date: November 19, 2014
* Individual store prices may vary.
Description
NAME: Gail Miller / RANK: Chief Steward / MISSION: To win the Admiral Ney Culinary Award for Best Navy Mess
NAME: Sly Stowell / RANK: Chief Petty Officer & hovercraft pilot / MISSION: To honor the Navy he loves
Gail Miller cares only about cooking the very best food for those who choose to serve. When assigned to the USS Peleliu, the Navy serves her far more than she bargained for.
Sly Stowell's home aboard the USS Peleliu comes under threat of a changing Navy. He must decide if he can change with it. When the Night Stalkers take over the ship and international crises call, their commitment and their hearts are tested to the limit. Will they still be there when the time comes to spend Christmas at Steel Beach?
About the Author
M. L. Buchman has over 30 novels in print. His military romantic suspense books have been named Barnes & Noble and NPR "Top 5 of the year" and Booklist "Top 10 of the Year." In addition to romance, he also writes thrillers, fantasy, and science fiction. In among his career as a corporate project manager he has: rebuilt and single-handed a fifty-foot sailboat, both flown and jumped out of airplanes, designed and built two houses, and bicycled solo around the world. He is now making his living as a full-time writer on the Oregon Coast with his beloved wife. He is constantly amazed at what you can do with a degree in Geophysics. You may keep up with his writing by subscribing to his newsletter at www.mlbuchman.com.