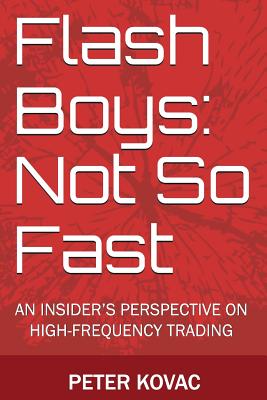 Flash Boys
Not So Fast: An Insider's Perspective on High-Frequency Trading
Paperback

* Individual store prices may vary.
Description
In Flash Boys, Michael Lewis alleged that the entire U.S. stock market is rigged. This is an extraordinarily serious accusation. If it is true that a conspiracy of stock exchanges, banks, regulators and high-frequency traders has rigged the market, this has profound implications for every aspect of our financial system. It's rather surprising, then, that this book alleging a vast high-frequency trading conspiracy included no high-frequency traders. Flash Boys lacks a single insider's account, and it shows. Electronic trading is extremely complicated, and if you neglect to talk to any electronic traders, you're probably going to get it wrong. Flash Boys: Not So Fast, written by a former high-frequency trading executive and regulatory compliance expert, provides the missing insider's perspective on today's stock market and answers the question of whether or not Michael Lewis is right. Not So Fast reviews the alleged scams described by Lewis and applies the same rigorous analysis that real trading strategies are subjected to, methodically walking through them step by step and explaining what is actually possible in today's markets and what is not. Extensively researched and documented, Not So Fast provides a clear, accurate picture of how today's markets operate, including what works, what doesn't work, and what changes need to be made.
Directissima Press, 9780692336908, 184pp.
Publication Date: December 10, 2014