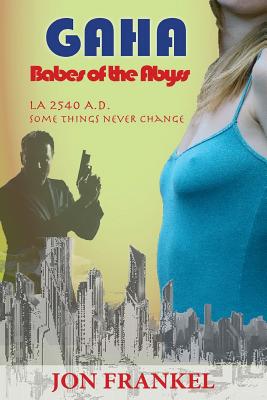 Gaha
Babes of the Abyss
Paperback

* Individual store prices may vary.
Description
When "Austrian" teenage sisters Irmela & Elma von Doderer meet Bob Martin in a bar one day, their life takes a turn for the better. But it doesn't take long for Bob to plunge them into a nightmare of murder, fraud and civil war. The year is 2540 and the place is Los Angeles. Not much has changed.
Praise For Gaha: Babes of the Abyss…
The future isn't unwritten, it's written by Jon Frankel. GAHA, Babes of the Abyss is powerfully transgressive, full of wit and grit and grace. Following in the tradition of Philip K. Dick, Frankel is truly an outsider intellectual whose ideas are as wonderfully engrossing as they are apocalyptic. To enter his world is a raucous pleasure.

– Cara Hoffman, author of the critically acclaimed novels So Much Pretty and Be Safe I Love You

Buzz Callaway* writes like he's running out of time, with an electricity and energy that leaps off the page. There's no one quite like him, although one can hear echoes of Philip K Dick, Raymond Chandler and every pulp writer whose fevered vision of the world burned through popular forms towards their own scarred beauty. This is a wonderful read, a wonderful novel, and firm proof that erudition and popular entertainment can be friends.

* (Jon Frankel's occasional pen name)

– Oskar Eustis, Artistic Director, The Public Theater
Whiskey Tit, 9780692337233, 388pp.
Publication Date: November 19, 2014